Yemen
Houthis to UN: We won't cede power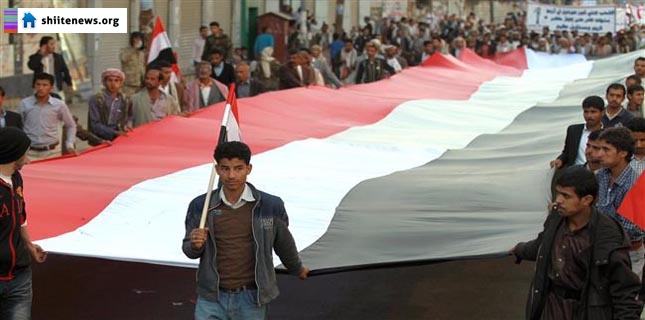 The Houthi movement in Yemen has rejected the UN Security Council demand to relinquish power.
The rejection came a day after the 15-member council adopted a resolution that called on Houthis to cede power and free President Abd Rabbu Mansour Hadi as well as his cabinet from house arrest.
The revolutionaries were also urged to "immediately and unconditionally" engage in UN-brokered talks.
In response to the resolution, the Shia movement on Monday asked the UN body to "respect the will and sovereignty of the Yemeni people, and to be accurate and objective."
The revolutionaries cautioned the Council against following "the lead of regional powers" which they said "aim tirelessly to eliminate the will of the Yemeni people in a flagrant violation of international conventions that criminalize meddling in internal affairs."
The resolution was approved after foreign ministers of the six [Persian] Gulf Cooperation Council member states called on the Security Council to consider military intervention under the UN's Chapter 7 over the worsening security situation in Yemen.
However, the resolution only threatened Houthis with sanctions.
UN bid for Hadi's release
The Houthis response came as the UN envoy to Yemen, Jamal Benomar, visited Hadi, who resigned last month, at his house in Sana'a and talked to him about the Security Council's resolution.
Benomar pledged for Hadi's release, amid claims that he needs to go abroad to receive medical treatment.
Nadia Sakkaf, the information minister in the former government, said in a message on Twitter that he visited Hadi, adding, "He has a heart condition and was quite ill. He must be allowed to travel for treatment,"
Pro-Hadi's advance in south Yemen
The recent developments in Yemen came amid threats of escalation of a civil crisis in the impoverished country.
Forces loyal to Hadi said on Monday that they have captured strategic buildings in the southern city of Aden after a five-hour battle. Four people were reportedly killed in the clashes.
According to sources, the pro-Hadi militants have taken control of parts of region, including its main power station and intelligence headquarters.
The Ansarullah fighters control Yemen's north while in the south, forces loyal to Hadi and separatists seem to be in charge.
The Houthi movement played a key role in the popular revolution that forced Saleh to step down after 33 years of rule.
On February 6, Ansarullah fighters dissolved the Yemeni parliament and ousted the government, following weeks of clashes with government forces.