Yemen
US-zionist Terror Puppet Al-Qaeda Claims Responsibility for Terrorist Attack on Iranian Envoy's Residence in Sana'a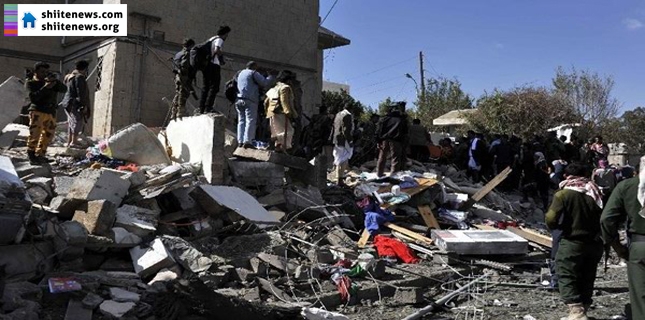 The al-Qaeda terrorist group claimed responsibility for the Wednesday suicide attack on the residence of the Iranian ambassador in Sana'a.
News sources reported on Wednesday evening that al-Qaeda published a statement in its twitter account and claimed the attack.
Explosion of a bomb in front of Iran's ambassador's residence in Sana'a killed two, but the ambassador and employees of the embassy were not hurt.
According to reports, Ambassador Hossein Niknam was not in the place when the blast occurred but part of the building was damaged due to the explosion.
On Wednesday, the Iranian Foreign Ministry summoned the Yemeni charge d'affaires to Tehran over the terrorist attack.
At the meeting, the Islamic Republic's displeasure and official protest was conveyed to the Yemeni charge d'affaires over the terrorist attack on the residence of the Iranian ambassador in the Yemeni capital.
The Iranian foreign ministry in its protest letter called on the Yemeni government to find and bring to justice the perpetrators of the terrorist attack and adopt the needed security measures to protect the Iranian embassy in Sana'a.
The Yemeni charge d'affaires, for his part, voiced regret over the incident, and said that he will quickly relay Iran's official protest to his government.
The blast punched a large hole in the building and sent rubble flying across the street of the well-guarded diplomatic quarter of the city, a Reuters witness said.
According to Reuters, Yemeni soldiers and paramedics arrived at the scene with stretchers. The Reuters report quoted Abdullah Mahmoud, a soldier, as claiming that Yemeni and Iranian guards had been killed and a paramedic at the scene said three dead bodies and three wounded had been taken from the area. It was not immediately clear whether the ambassador was in the residence at the time of the blast, the Reuters report added.
But a few hours later, Iranian Foreign Ministry Spokeswoman Marziyeh Afkham dismissed the reports that the Iranian guards at the ambassador's residence had been killed in the suicide blast, and said all Iranian embassy staff members were in good health.
"All the staff members of the Iranian embassy in Sana'a are healthy and unhurt by the blast near the Iranian embassy (which is near to the ambassador's residence) in Yemen," Afkham said in her weekly press conference in Tehran.