Yemen
Defense Minister to US-Saudi Forces: You will See what You Can't Imagine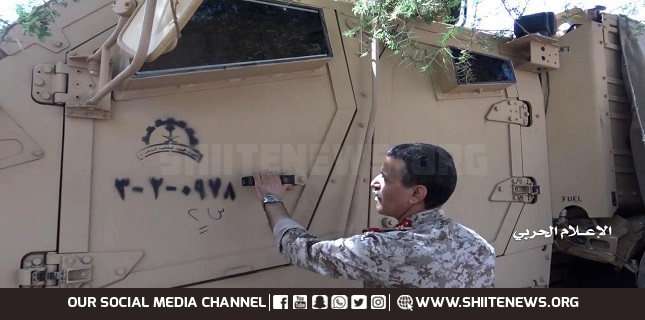 Defense Minister, Maj. Gen. Mohammed Nasser Al-Atefi, has vowed the countries of aggression defeat and lose, saying "we are speaking from a position of strength, and we have prepared what we can, you have the money, we have the men, and you will see what you can't imagine from the Army and Popular Committees, and the free and honorable people of Yemen."
In his speech to the fighters in frontlines in Najran, the Minister of Defense praised the bravery and courage of the heroes of the Army and Popular Committees and the great victories they achieved with the help of God; defending the sovereignty, independence, unity of the homeland and freedom and pride of the Yemeni People. He pointed out that the fierce battles waged by the heroes of the Armed Forces on various fronts has no parallel in contemporary history.
He said, "The Yemeni fighter faced the most modern equipment and means of warfare and advanced capabilities of the enemy with his personal weapon, his strongest weapon will remain his trust in God and the justice of his cause which is fighting for." He pointed out that the unity of leadership and position of the leader of the revolution, Sayyed Abdulmalik Al-Houthi and political leadership represented by the President, Field Marshal Mahdi Al-Mashat, one of the reasons for victory for the country and the people.
Defense Minister pointed to the barbaric acts and brutal crimes committed by the aggression against the deceived who fought with them against their homeland and their people, especially in the borders and the West Coast Frontlines, where hundreds of them were burned with the aggression's warplanes, most recently what happened in the battle of Najran, targeting the area with 152 airstrikes in flagrant violation of all humanitarian norms and laws.
"What happened by the enemy (targeting its mercenaries) should be a lesson for those deceived, who are still standing by the aggression," he said, calling on the families of those deceived to look for the fate of their children "who are still fighting in the line of the enemy, which pushes them to incinerators to get rid of them."
Al-Atefi called on the Sudanese People and their political leadership to withdraw their soldiers involved in the killing of Yemenis, warning of the serious consequences that await them if they continue fighting the Yemeni People.
The Minister of Defense pledged to all Yemenis at home and abroad to continue the steadfastness of the Army and Popular Committees in defending national sovereignty against the coalition of aggression and to preserve the unity, security and stability of Yemen.
For their part, the heroes stationed in the axis of Najran expressed their thanks and appreciation for the visit of the Minister of Defense and endure the hardships of travel and risk and share their joys with the victories they achieve.