World
Sheikh Al-Azhar Rejects Wahhabi Extremist Call for Withdrawal of recognition Shia doctrine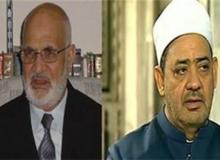 The Grand Sheikh of Al-Azhar Ahmed Al-Tayeb refuses a call by a Wahhabi Extremist to withdraw the recognition of the Shia doctrine and said nobody can accept these weak statements, furtheremore the position of Al-Azhar is stable to achieve unity among the Muslims.
Saudis Online News Network has mentioned that the Wahhabi scholar Ahmed bin Saad B. H. Al-Ghamdi, from the Saudi University of Umm Al-Qura had denounced Al-Azhar scholars for their recognition of the doctrine of the members of prophet's household and for their consideration of it as a doctrine like the rest of the nation's doctrines.
In an exclusive statement to Al-Watan Daily Kuwaiti Newspaper, The Grand Sheikh of Al-Azhar ( al-Tayeb) said that the Sunnis and the Shiites are a the two wings of the Islamic nation and that over fourteen centuries that is the life of Islam it never happened that the Sunnis and the Shiites fought one another, pointing out that what happens between them now is a plot to bring them face to face through the weapon of the sectarian strife.