World
Free Sheikh Zakzaky Protest in London amid Visit by Nigerian President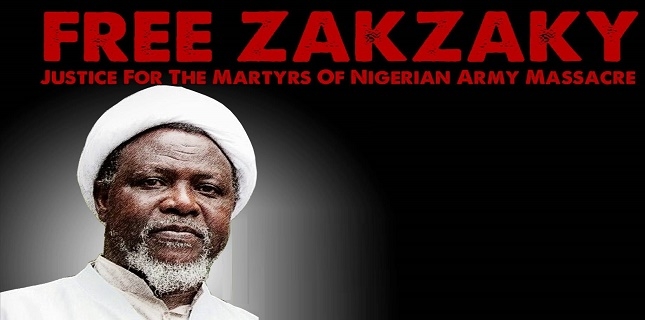 Human rights activists in London have called for a free Sheikh Zakzaky protest during an upcoming visit by Nigerian President Muhammadu Buhari.
Buhari will be in London for the so-called Anti-Corruption summit taking place on Thursday, 12 May.
In light of the visit by the Nigerian ruler, Islamic Human Rights Commission has planned an emergency protest for Thursday, 12 May. In a statement, IHRC says the protest is being held to support Sheikh Zakzaky and the others being kept as prisoners by the Nigerian regime.
Last April the extent of the massacre of Shiite Muslims in Nigeria last year was revealed with Amnesty International reporting that Nigerian military burned people alive, razed buildings and dumped victims' bodies in mass graves.
In a report, the UK-based rights body said that the Nigerian army killed over 350 members of the Islamic Movement of Nigeria, IMN, and tried to meticulously destroy evidence of the crime by burying the victims in mass graves and limiting access to conflict sites in the city of Zaria, Kaduna State. Amnesty says there was mass slaughter of hundreds of men, women and children by soldiers in Zaria and the attempted cover-up of this crime demonstrates an utter contempt for human life and accountability.
On December 12, Nigerian soldiers attacked Shia Muslims attending a ceremony at a religious center in Zaria, accusing them of blocking the convoy of the army's chief of staff and attempting to assassinate him.
A day later, Nigerian forces raided the home of the IMN leader Sheikh Ibrahim Zakzaky and arrested him after killing those attempting to protect him.
Both incidents led to the deaths of hundreds of members of the religious community, including three of Zakzaky's sons. Some sources have put the toll at over 1,000.