World
Russia hits Ukraine's aeronautics company after its tanker attacked in Black Sea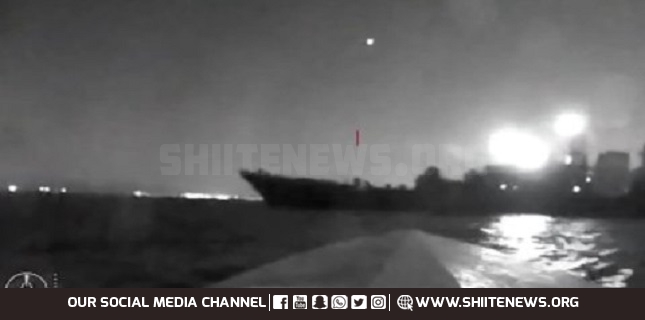 Russia has hit a key Ukrainian aeronautics company with hypersonic missiles just a day after Ukraine staged a drone strike against a Russian tanker in the Black Sea.
The Russian missile attack, which according to Ukrainian President Volodymyr Zelensky included hypersonic Kinzhal missiles, targeted the company in the western Ukrainian region of Khmelnytskyi on Saturday.
Zelensky identified the precise target of the counterattack as Motor Sich, a maker of plane and helicopter engines and other components.
The company is one of several firms that Ukraine claims were taken over by the country's Defense Ministry last November.
The new development came after on Friday, a Ukrainian sea drone filled with explosives struck a Russian tanker, which was transporting fuel for Russian troops, south of the Kerch Strait.
Ukraine claimed it "blew up" the vessel, but Russian media said the tanker was not seriously damaged, no fuel spilled from the ship, and its crew members were safe.
The Marine Rescue Coordination Center in the Black Sea port of Novorossiysk also denied reports of extensive damage to the vessel, saying, "It is standing at anchor…the machine room suffered some damage, not too badly."
Crimean officials also rejected claims that the bridge had been hit in the attack.
Earlier on Saturday, the Russian Foreign Ministry condemned the attack on a "civilian vessel, adding that the "terrorist act" threatened the lives of the crew and risked "a large-scale environmental disaster."
"The Kiev regime, meeting no condemnation from Western countries and international organisations, is actively applying new terrorist methods, this time in the waters of the Black Sea," the ministry's spokeswoman Maria Zakharova said in a statement.
"There can be no justification for such barbaric actions, they will not go unanswered and their authors and perpetrators will inevitably be punished," she added.
Former Russian president, Dmitry Medvedev, also reacted to Ukraine's attack, suggesting that Moscow would launch more strikes against Ukrainian ports in response to Kiev's attacks on Russian ships in the Black Sea.