World
Drone attacks reported in Moscow region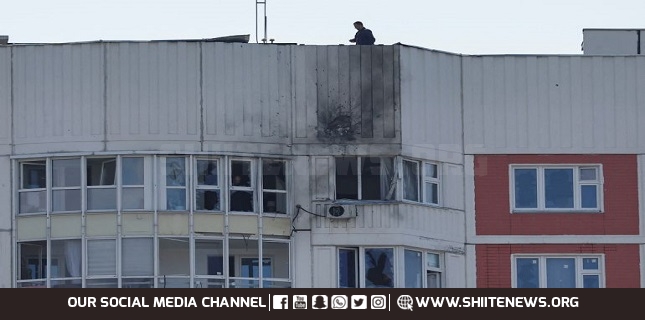 Moscow Mayor Sergey Sobyanin said several buildings in the Russian capital were slightly damaged this morning in drone attacks.
"In the early hours of this morning, a UAV attack caused minor damage to several buildings. No one has been seriously injured. All emergency services in the city are on the scene. Please only trust official sources of information and do not spread unverified information," Sobyanin said, according to Sputnik.
Residents were evacuated from the two drone-hit buildings, Sobyanin said.
The evacuees will be able to return to their homes once the emergency services have completed their work, the Mayor added.
Drones hit two residential buildings in southern Moscow: on Profsoyuznaya Street and Atlasova Street, no one was injured, a spokesman for emergencies services said.
"A drone hit the upper floors of a residential building on Profsoyuznaya Street 98. The facade and glazing of the house were destroyed. There were no casualties," the spokesman said.
"A drone also hit a 24-story residential building on Atlasova Street. The facade and glazing of the upper floors were destroyed. There were no casualties," he said.
According to media reports, a UAV carrying three explosives flew into an apartment on the 14th floor of a building in Leninsky Avenue, but failed to detonate.
Moscow's Domodedovo, Zhukovsky and Vnukovo international airports are operating normally.
The governor of the Moscow region, Andrey Vorobyov, said that several drones had been shot down as they approached Moscow.
"This morning, residents of some districts of the Moscow Region could hear the sounds of explosions – this is the work of our air defenses. Several drones were shot down on approach to Moscow," the governor wrote on Telegram.
Vorobyov asked residents to remain calm and said all emergency services are working.
The latest series of incidents involving UAVs comes after earlier this month, Moscow said that Ukraine attempted to strike the Kremlin residence of Russian President Vladimir Putin with two drones. There were no casualties from the incident. The drones were intercepted and destroyed.
Kremlin spokesperson Dmitry Peskov said that Putin was not in the Kremlin at that moment. Russia's Investigative Committee initiated a case over a terrorist attack "in connection with an attempt by the Kyiv regime to strike" the Kremlin with drones.