World
Russian troops capture Ukraine's second biggest power plant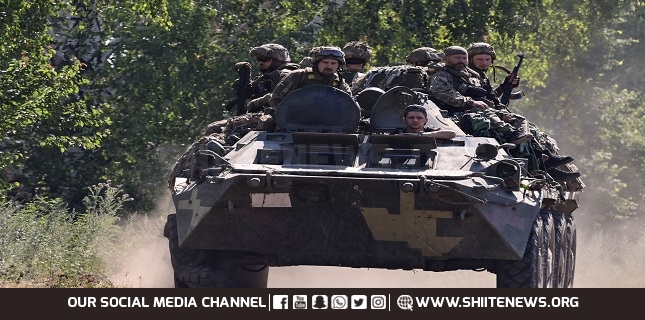 An adviser to President Volodymyr Zelensky says Russian forces have taken control of Ukraine's second biggest power plant.
The confirmation came after pro-Russian forces said earlier they had captured the plant intact.
The capture of the Soviet-era coal-fired Vuhlehirsk power plant in eastern Ukraine marks Russia's first strategic gain in more than three weeks.
Zelensky's advisor Oleksiy Arestovych said Russia was undertaking a "massive redeployment" of troops to three southern regions of Melitopol and Zaporizhzhia and Kherson.
Ukraine has shelled an important bridge straddling the Dnipro river in Kherson, closing it to traffic. Russian officials had earlier said they would turn instead to pontoon bridges and ferries to get forces across the river.
Fighting has continued to rage on the ground. Kiev has hit the vital Antonivskiy bridge over the Dnipro river in a move that threatens to cut supply lines to Russian troops.
Kirill Stremousov, the deputy head of the pro-Russia regional administration in Kherson, confirmed the bridge had been hit overnight and traffic had been halted.
But he sought to play down the damage, insisting that the attack would not affect the outcome of the hostilities "in any way."
Ukrainian forces in recent weeks have been clawing back territory in the Kherson region, which fell to Russian forces easily and early after their "operation" launched on February 24.
German authorities said Russian energy giant Gazprom drastically cut gas deliveries to Europe via the Nord Stream pipeline to about 20 percent of its capacity.
The Russian company had announced Monday that it would choke supply to 33 million cubic meters a day — half the amount it has been delivering since service resumed last week after 10 days of maintenance work.
EU states have accused Russia of squeezing supplies in retaliation for Western sanctions over Moscow's war in Ukraine.
Gazprom cited the halted operation of one of the last two operating turbines for the pipeline due to the "technical condition of the engine".
The German government dismissed the explanation, saying there was "no technical reason for a reduction of deliveries".
They head of Germany's energy regulator said gas flows had dropped to 20 percent of the pipeline's capacity on Wednesday from 40 percent.
Kremlin spokesman Dmitry Peskov blamed EU sanctions for the limited supply.
"Technical pumping capacities are down, more restricted. Why? Because the process of maintaining technical devices is made extremely difficult by the sanctions adopted by Europe," Peskov said.
"Gazprom was and remains a reliable guarantor of its obligations… but it can't guarantee the pumping of gas if the imported devices cannot be maintained because of European sanctions."
Berlin takes a major share of the 40 percent of EU gas imports that came from Russia last year.
The European Union on Tuesday agreed a plan to reduce gas consumption in solidarity with Germany, Europe's top economy.
German daily Sueddeutsche Zeitung called the bloc's plan a "lesson in humility for the EU's would-be schoolmaster," Germany.
"Suddenly we are not the strong ones and are dependent on others' help," it said.
The Rheinische Post newspaper said the EU agreement was welcome, but noted that if President Vladimir Putin "turns off the taps completely, then 15 percent will start looking like a drop in the ocean".
Their counter-offensive supported by Western-supplied long-range artillery has seen its forces push closer to Kherson city, which had a pre-war population of under 300,000 people.
Ukraine said Wednesday it had restarted operations at its blockaded Black Sea ports as it moved closer to resuming grain exports with the opening of a coordination center in Turkey to oversee a UN-backed deal.