World
More western arms supplies to Ukraine risks 'further destabilization': Putin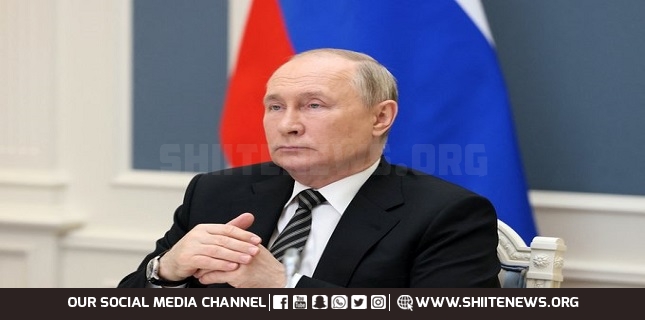 Russian President Vladimir Putin has warned the leaders of France and Germany against the West's continued delivery of weapons to Ukraine, saying the move could further destabilize the situation in the former Soviet state.
Putin made the remarks in a telephone conversation with his French counterpart Emmanuel Macron and German Chancellor Olaf Scholz on Saturday, as Western countries have ramped up their military support for Ukraine, following Moscow's military offensive in late February.
"The Russian President highlighted the issue of dangerous ongoing pumping of Ukraine with Western weapons, warning of the risks of further destabilization of the situation and aggravation of the humanitarian crisis," the Kremlin said in a statement.
Russia launched the military operation in Ukraine on February 24. Western countries have responded to the Russian military operation by backing Ukraine with cash and heavy weaponry while imposing unprecedented sanctions on Russian officials and entities.
Moscow has repeatedly warned that such a flow of weapons to Kiev will only prolong the conflict.
The Kremlin further confirmed Moscow's readiness to continue peace talks with Kiev.
"Special attention was given to the state of affairs on the negotiating track, which is frozen because of Kiev. Vladimir Putin confirmed Russia is open to resuming the dialogue," it said.
Talks between the two warring sides have been held regularly both in person and via video link since Russia launched its military operation in Ukraine.
However, the negotiations have failed to produce a breakthrough, as both the warring sides have refused to compromise on their respective redlines.
Moscow has already warned that Western weapons supplies to Ukraine may hurt any prospects of peace.
Elsewhere, Putin noted that problems with food supplies were caused by anti-Russian sanctions as well as "misguided economic and financial policies of Western countries," the Kremlin said.
Moscow is "ready to help find options for unhampered exports of grain, including exports of Ukrainian grain from the Black Sea ports," the statement said, stressing that the West should lift its sanctions.
"Increasing supplies of Russian fertilizers and agricultural products will also help reduce tension on the global food market, which, of course, would require removing the relevant restrictions," it added.
Russia's offensive in Ukraine and Western sanctions have disrupted supplies of fertilizer, wheat and other commodities from the two countries, fuelling concerns about the risk of hunger around the world.
Russia and Ukraine together produce almost 30 percent of the global wheat supply.
Unprecedented waves of sanctions against Russia have sent the price of grain, cooking oil, fertilizer and energy skyrocketing, hurting global growth.