World
May Day rallies across Europe honor workers, protest governments as inflation bites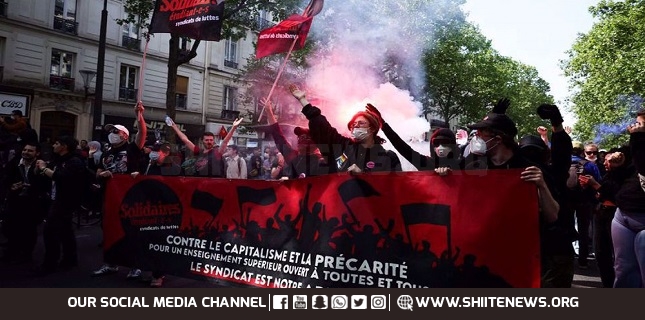 Tens of thousands of people marched Sunday in different European countries for May Day protests to honor workers and show opposition to the anti-labor policies of their respective governments.
France, as the main hub of May Day protests in Europe this year, saw tens of thousands of people filling the streets across the country, demanding social justice and salary hikes.
Around 250 demonstrations were organized in the capital of Paris and other cities, including Lille, Nantes, Toulouse, and Marseille.
The protests marked the first test for newly re-elected President Emmanuel Macron, as protesters vented their anger at him with vociferous slogans.
In Paris, demonstrators smashed windows at some banks, a fast-food restaurant, and a real estate agency, according to reports. In response, French police fired rounds of tear gas.
Interior Minister Gerald Darmanin told media persons that 45 people had been detained over May Day demonstrations, calling protesters "thugs".
Rising inflation and fears of upcoming food shortages from the conflict in Ukraine have fed discontent around the world.
Economic growth, which directly impacts the workers' way of living, has come to a dead halt in France, while in Italy, the GDP has fallen 0.2 percent from the previous three months.
The average growth among the 27 countries that make up the EU was 0.4 percent in the first three months of 2022, according to the EU's statistical office, Eurostat, marking twice the figure reported for the Eurozone.
In Turkey, people in large numbers poured into the streets in the barricaded Taksim Square in Istanbul, where the Turkish police detained at least 164 people for demonstrating without permits, the Istanbul governor's office said.
The Asian side of sprawling Istanbul also saw a May Day union-organized gathering, which drew thousands of protesters to the streets, where they sang, chanted, and waved banners.
May Day protests, which take place on May 1 every year, are an important occasion for workers in Europe. However, protests in the last two years have been limited by pandemic restrictions.
In Germany, people held a massive rally during Berlin Mayor Franziska Giffey's speech in the city, where a demonstrator even lobbed an egg at her.
Stumped by the incident, Giffey called it "neither helpful nor politically valuable."
Italy also witnessed several protests in different cities, with three main labor unions holding their main rally in the hilltop town of Assisi, a frequent destination for peaceful protests.
"It's a May Day of social and civil commitment for peace and labor," the head of Italy's CISL union, Daniela Fumarola, was quoted as saying.
North Macedonia's capital of Skopje also saw thousands of protesters, mostly workers, unemployed people, and retirees taking to the streets on May Day.
Darko Dimovski, head of the country's Federation of Trade Unions, told the crowd that workers are demanding an across-the-board wage increase.
"The economic crisis has eaten up workers' salaries," he said.
Inflation, running at an annual clip of 8.8 percent in March, is at a 14-year-high in Macedonia.
Protests in Chile were marked by heightened tensions, with clashes between the police and protesters leaving at least three wounded in Santiago.
Chilean police reportedly used tear gas and water cannon to disperse the crowd.