World
Anti-govt. protesters vandalize Democrats' office in Oregon after Biden inauguration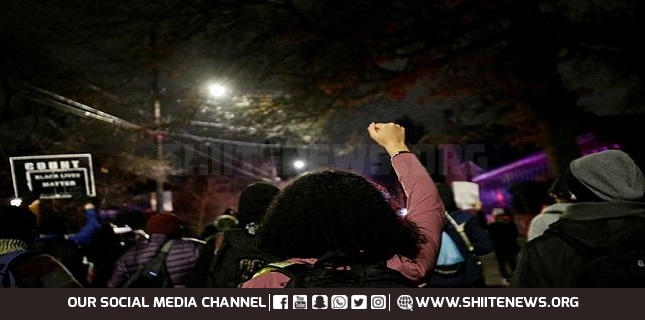 Anti-government and anti-fascist US protesters have clashed with police in Portland, Oregon, protesting the inauguration of President Joe Biden.
The protesters dressed in black, vandalized a Democratic Party office and scuffled with police, spray-painting an anarchist symbol over the party sign.
The demonstrators marched in the city on Wednesday, calling for "revenge," while holding signs that read; "we don't want Biden."
"We want revenge for police murders, imperialist wars, and fascist massacres," read a banner.
Donald Trump has still not formally conceded the presidency to Biden and snubbed the inauguration ceremony in Washington.
The Democratic Party denounced the protests and the damage inflicted to its headquarters, saying, "None of this should take away from the fact that today is a joyous day for America," referring to Biden's first day in office.
The protesters demanded an end to police brutality, anti- immigration policies and economic inequalities.
They said that they seek revenge "for killings committed by police officers and "fascist massacres."
Portland police declared the gathering as unlawful, threatening to arrest those who trespassed on federal property with weapons or "other dangerous items."
Police fired flash bangs and tear gas to disperse the Pro-Trump protesters away from the building, and arrested at least eight people on suspicion of criminal mischief, possession of destructive device, riot and reckless burning.
Portland has seen months of violent protests over racial injustice and economic inequality.
Protesters in the city have already threatened to continue the rallies no matter who is president.
"We are ungovernable," read one sign among the protesters.
Some protesters also celebrated Biden's first day in office in other part of the city.
Demonstrators gathered to hear speakers, who celebrated the departure of now-former President Donald Trump, but called for continued pressure for government action over racial injustice, economic inequality and federal law enforcement.
Black Lives Matter protesters were also seen among the demonstrators in the city which was first hit by anti-racism rallies last year, in protest at the brutal murder of unarmed African American George Floyd by police in Minnesota in May.
The protests evolved into a seemingly nationwide battle between progressives and far-right groups.
Trump took a hardline stance against the anti-racism protests across the nation, accusing the Democratic Party and the then presidential nominee, Biden of being behind the violence to tilt Black vote to their favor.
Trump who lost the November 3 vote, later refused to concede the election, citing widespread voter fraud.
His supporters attacked the congress building in Washington DC on January 6th, as the chamber was certifying the Electoral College's votes and Biden's victory.
Trump had encouraged his supporters to "be wild," and "fight like hell…to take back our county," in a move that prompted his impeachment for the second time, during his one-term presidency.
Seattle protesters: Democratic administration no victory for oppressed
In Seattle, protesters marched against the Immigration and Customs Enforcement's (ICE), holding banners that call for "Abolish ICE, no cops, prisons, borders, presidents."
Some people spray-painted buildings and broke windows, including at a federal courthouse.
"A Democratic administration is not a victory for oppressed people," said a flier handed out during the demonstrations.
Other fliers said, "Biden won! And so did corporate elites!" The fliers explained that "Biden will not save us."
Police followed protesters and began to surround them as night fell.
The city has also long been the scene of protests against police brutality and racial injustice.
In several occasions, Trump's supporters clashed with protesters, leading to dozens of arrests, several stabbings and injuries to protesters and police officers.
Back then, Trump called protesters "ugly Anarchists" who need to "be stopped immediately."