World
Zakzaky Foundation South Africa condemns attacks on mourners in Nigeria, Kashmir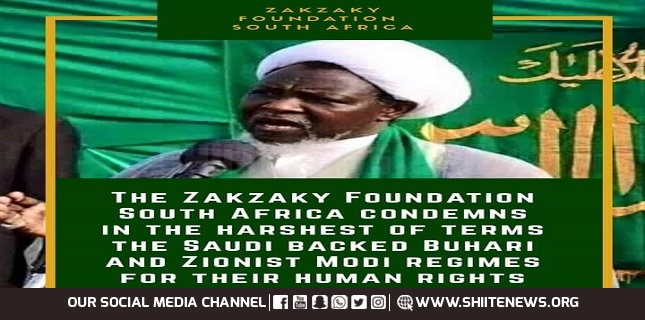 Zakzaky Foundation South Africa Statement, Ashurah day brutalities perpetuated against mourners in Nigeria and Kashmir
Following are the full statement.
The Zakzaky Foundation South Africa condemns in the harshest terms the brutalities inflicted upon mourners who commemorated the annual anniversary of the killing of Imam Husayn and his family on the 10th day of Muharram, in Nigeria and Kashmir respectively.
In Nigeria, the Saudi backed Buhari regime have inflicted several abuses and human rights violations upon the Islamic Movement of Nigeria and this Muharram these attacks have intensified. Apart from the armed forces abducting three young men from an Islamic center belonging to the IMN, the Buhari regime have further launched attacks on Muharram programs in Nigeria, which resulted in one person being killed on Ashurah day with several others injured. Unfortunately, one more of the injured too have succumbed to his wounds and achieved martyredom.
In Kashmir, the Indian Occupation Forces have attacked the Ashurah procession, viciously assaulting various mourners, using unprecedented excessive force, arresting many and injuring tons more.
While the Zakzaky Foundation do not expect the ilk of the Saudi backed Buhari and the Zionist Modi regimes to respect human rights, dignity and freedom, we call upon the international world to hold these rogue regimes accountable for the human rights violations they perpetuate against the people of Nigeria and Kashmir.
More so, we call upon all freedom and justice loving individuals the world over to agitate your governments to take action against the Nigerian and Indian regimes, this can be done by contacting your countries consulates in both India and Nigeria and demand that attention be given to the human rights violations of these two rogue governments.
Lastly, the Zakzaky Foundation South Africa would like to salute all those in Nigeria and Kashmir, who despite years of abuse by oppressive regimes, knowing with certainty that the commemoration of Ashurah will bring about confrontation with their oppressors, have still braved the streets to reaffirm their attachment with Imam Husayn (as) and his humanitarian.
Indeed these are the brave souls who inspire the rest of humanity on this noble path.
Yours in unity and struggle,
Rosheni Khaled
Secretary
Zakzaky Foundation South Africa