Saudi Arab
Saudi Wahabbis banned women from voting again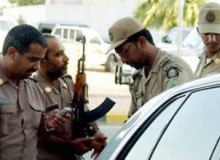 Saudi Arabian women have been prohibited from participating in the municipal elections that are scheduled to be held later this year.
It is the second time Saudi women have been banned from voting in municipal elections since 2005.The Saudi ministry responsible for polls decided not to allow  women to participate because of social considerations, a report said on Saturday.
Only men were allowed to vote and run for office in the last mayoral elections in 2005. However, municipal councils in Saudi Arabia have no legislative powers.
The mayoral elections slated for later this year will be the second in Saudi Arabia's history.
Saudi Arabia has extremely harsh regulations for women, and it is the only country in the world that prohibits women from driving.
But there is evidence that many women in Saudi Arabia do not want radical change.
Even many advocates of reform reject Western critics for "failing to understand the uniqueness" of Saudi society.
However, some women in Saudi Arabia have campaigned for the right to drive cars for decades.
An economic argument against the ban is that the country can save the money the army of foreign drivers sends back to their home countries.
Back to top button