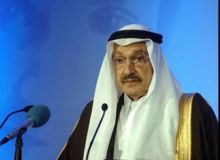 Saudi Prince Talal bin Abdul-Aziz has warned that his oil-rich country might be next in being swept over by a popular uprising if it does not act on reforms.The senior member of the Saudi royal family said on Thursday that it is not too late for the government to avoid a popular uprising if it adopts measures to step up the pace of reforms.
In an interview with the state-funded BBC Arabic, he reiterated that the king is the only person that can embark on drastic reforms.
"The only person who could really maintain things and do major things and change is King Abdullah," the prince said."But if he doesn't do it, it would be very dangerous in our country," he warned.
Talal, who is a half-brother of the king, is an outspoken prince that has long called for reforms.He created the liberal political group called Free Princes Movement back in 1958.
Talal was briefly forced into exile in the 1960s following the reports that he was contemplating a revolt.
Last week, a group of Saudi moderate scholars and activists announced the formation of the first political party in the kingdom, named "Islamic Umma Party."The move came despite the kingdom's ban on forming political parties.
Saudi Arabia does not have a parliament. Instead, it has a consultative Shura Council, which is entirely an appointed body, merely aimed at providing the king with consultations on policies, laws, and other matters.
The initiative for founding the Islamic Umma Party is taken as Pro-democracy movements have been spreading across Arab countries in recent weeks.
Last month in Tunisia, nationwide outrage at the government's suppressive policies sparked a massive revolution that ended the 23-year-long rule of its despotic President Zine El Abidine Ben Ali and forced him to flee to Saudi Arabia.
On February 11, millions-strong nationwide revolution in Egypt, which started on January 25, ended the three-decade-long rule of US-backed dictator Hosni Mubarak.
Other pro-democracy uprisings have also flourished in Bahrain, Yemen, Libya, Algeria and Jordan, as more Arab countries are expected to witness similar popular revolts.
Back to top button