Saudi Arab
Ignorant Saudi Wahhbis Attack Imam Mahdi (pbuh) Religious Ceremony in Holy Medina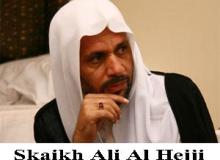 Last month, The Saudi Wahhabi Committee for the Promotion of Virtue and the Prevention of Vice (SCPVPV), also known as Religious Police, had attacked a religious ceremony held in Al-Medina city on the occasion of the birth of Imam Mahdi, the Imam that Shiites believe to be the ultimate savior of humankind and the last Imam of the Twelve Imams.
The attack was carried against one of Al-Ahsa organizations that was celebrating the holy birth of Imam Mahdi in one of the hotels near the  holy mosque of the Prophet Mohammad.
According to eyewitnesses, without prior notifications, some members of the SCPVPV attacked the location of the organization at one of the hotels and destroyed all of the paintings, the slogans, and banners that contain sayings of Prophet Mohammad and religious excerpts about Imam Mahdi. In addition, some of SCPVPV members forced the organizers of the ceremony to cancel the events immediately.
Coincidently, the attack occurred at the same time when Sheik Ali Al-Hejji was delivering a religious oration for his audience.
No information reported about casualties or arrests of the organizers by the SCPVPV.
Nonetheless, the SCPVPV imposes strict rules on the Shia visitors of the holy mosque of Prophet Mohammed and Al-Baqi cemetery, in which it reached the limit to prevent them from carrying prayer booklets that the SCPVPV considers as polytheistic books.
Additionally, it is rare to record incidents of attacks on religious ceremonies held by Al-Hajj and Al-Umra organizations at their locations in hotels.
Dozens of Al-Umra and Al-Hajj organizations from Al-Ahsa and Al-Qatif go to the cities of Mecca and Medina during the summer break to spend their time in performing rites of minor hajj (Umra) in Mecca and visiting Prophet Mohammed in Medina.
However, many radical Salafi websites reported unconfirmed information about an intense security presence in the vicinity of the holy mosque of Prophet Mohammed and the cemetery of Al-Baqi.
Last year, the SCPVPV supported by the Saudi security guards were blamed for one of the deadliest attacks yet on thousands of Shia pilgrims of the holy mosque of Prophet Mohammed in a dramatic seen in which the Saudi security guards arrested dozens of Shia pilgrims; lately, the incident has been known as Al-Baqi's events.