Saudi Arab
Saudi female teacher fired for backing Shias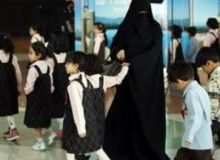 Imtithal Abu al-Saud said she was stripped of her position for protesting the inequalities and sectarian discrimination against Shia teachers.
A former official for the education office in the Saudi region of Qatif, Imtithal blamed the move on Samir Omran, who is tasked with girls education in the al-Sharqiyah district.
Omran denies involvement in the decision and insists that her dismissal stemmed from security concerns.
Al-Saud said she received a message from one of the influential leaders of the region's Wahhabi sect urging her to abandon her pro-Shia demands.
"They told my husband I should be thankful for still holding a government job, receiving a monthly pay and being able to cooperate with the Human Rights Commission," she said.
The Shia activist criticized the conduct of Saudi authorities who treat her like a 'suspected criminal' and keep her waiting for hours at airports and terminals upon entrance or departure.
According to Imtithal, there are some 4,000 Shia teachers in al-Sharqiya who are prevented from working in supervisory posts or holding the position of principal at schools, regardless of their educational skills and competence.