Saudi Arab
Saudi Wahhabi Security Forces Arrested Two Shiites Protesters on Demonstrations of Qatif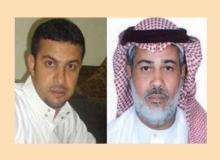 On 13 June 2011 , Saudi Arabia's security forces detained 2 minority Shiites who participated in demonstrations protested last three months against sectarian discrimination and demanding the release of prisoners who are being held without trial.
The detainees were Abdul Wahid Mohammad al-Faraj and Abdul Azeem Abdullah Yaseen .
Abdul al-Faraj , 38 years , from Awwamiya , was arrested as he travel to Bahrain through the Bahrain Bridge connecting Saudi Arabia and Bahrain and transferred to Qatif police center .
Abdul Azeem Yaseen , 46 years , from Awwamiya , was arrested as he returned from performing religious rites in Iran .
In order to tight the siege around the city of Qatif , the Saudi authorities  have been erected military checkpoints on main roads leading to the city in which the soldiers behaves in a manner that provokes people.
On the other hand , Saudi authorities released on 13 June 2011 four Shiite detainees arrested during protests in the Qatif who spent more than three months in jail without trial , among them Khleel al-Jassas , Abdullah al-Dahhan and Ashraf Al Huss