Saudi Arab
Day of Rage on Friday in Al-Ahsa, Shiite News Exclusive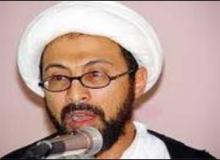 The youth group in Al-Ahsa, a Saudi Eastern Province, planned to organize a gathering "Day of Rage" on Friday to protest against the arrest of a senior cleric Sheikh Tawfiq Al-Amer.According to the Shiite News, Saudi authorities had arrested on Sunday, Sheikh Amer following his call for a constitutional monarchy, and  raise voice against the sectarian discrimination in the Kingdom.
The group said it was organizing a peaceful sit-in after the Friday prayer directly in front of mosque Imam Baqir cemetery near Hofuf, Al-Ahsa and the mosque where Sheikh Al-Amer was ead the prayer.
In support of Sheikh Amer, a youth group has established a page on the Facebook social networking program called "Day of Rage for young Al-Ahsa for the release of Sheikh Tawfiq Al-Amer," which was even now more than 200 participants.
According to the Youth Page is designed to mobilize the largest number of supporters of Sheikh Amer, who reject the idea of his arrest.
The group has called on everyone to be participated in the mosque of Imam Baqir on Friday to perform the Friday prayers and the holding a peaceful assembly for an hour next to the mosque in the neighborhood Almzra city of Hofuf, Al-Ahsa.
March of pro-Sheikh Amer in Awamiya
In the same context, calls were made in the town of Qatif province to the march of pro-Sheikh Amer demanding his release, saying that "this is the the moral and legal duty to defend him."
The cities of Qatif and Safavi seen in the recent marches out the Saudi authorities demanded the release of prisoners.
It is noteworthy that groups of young girl was called earlier in the day of wrath prevail in Saudi cities on 11 and 20 March.
for more details,visit 
Saudi Authorities Arrest Prominent Shia After His Call for a Constitutional Monarchy
Back to top button