Saudi Arab
Ignorant Saudi Wahhabis Arrested Two Innocent Shia Citizens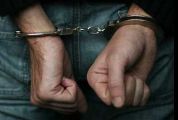 Saudi Wahhabi security forces of Al-Ahsa arrested two Shia citizens ( Muhssin Ali al-Oqeili , 28 years , private employee , and Hussain Ali al-Oqeili , 18 years , a student , from al-Mahdoud district in Qatif city .
The two citizens were halted by security patrol in a quadric car when they were driving their car on Qatif street . They were arrested and led  to prison under a charge of holding a banner in support of Hizbullah on their car.
On the other hand , the members of the Committee for the Promotion of Virtue and the Prevention of Vice raided some towns and villages in Al-Ahsa where Husseiniyaat, mosques, houses, shopping malls and streets were decorated with lights, flowers and shiny buntings to celebrate the birthday of the Imam Hassan the grandson of the Prophet Mohammed (AS), and destroyed all signs and decorations celebrating.