Saudi Arab
Whistler-Blower Discloses Blackwater's Role in Recent Detentions in S. Arabia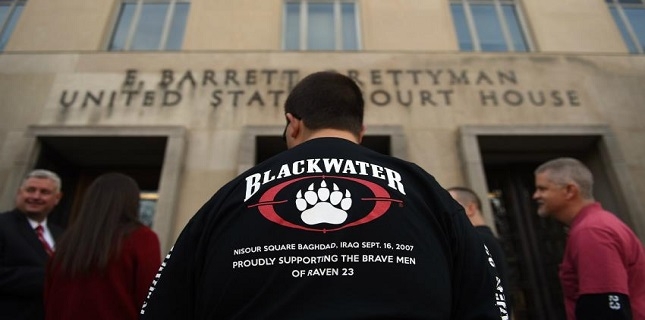 Whistle-blower Mujtahid, who is believed to be a member of or have a well-connected source in the Saudi royal family, revealed the role of the infamous international contractor security firm, Blackwater, in the detention of tens of princes in Saudi Arabia last year.
"70 people were detained, among them 40 grandchildren of the late al-Saud. 800 forces were involved in their detention, among them 700 security forces from Blackwater, and the remaining were royal security guards. Clashes were reported between Blackwater and the detainees which led to injuries on both sides," Mujtahid wrote on his twitter page on Monday.
He also disclosed that Saudi Crown Prince Mohammed bin Salman is suffering from an aggravating anxiety disorder, and said he is feels strong worries that he might become the victim of a poison attack by his rivals and therefore he doesn't use plastic dishes because poison can be injected in them and he prefers glass dishes.
In relevant remarks on Sunday, Mujtahid had revealed that bin Salman is anxious about his failures in Iraq, Syria, Yemen and other regional states, adding that he pays millions of dollars to the western media to improve his image.
"In private meetings, Bin Salman doesn't want to admit failure of his foreign policies but always complains that his affairs don't progress well in Qatar, Yemen, Kuwait, Iraq, Syria, Egypt and Turkey as he desires, and he is angry that the western newspapers mock his views," Mujtahid wrote on his twitter page.
He added that the Saudi crown prince praises his foreign policy and then complains that the pressures on Qatar have backfired and Riyadh's attempts against Iraq, Syria and Lebanon didn't yield desired results.
"Bin Salman is spending millions of dollars to stop the western media's negative reports on him and improve his image with their help," Mujtahid said.