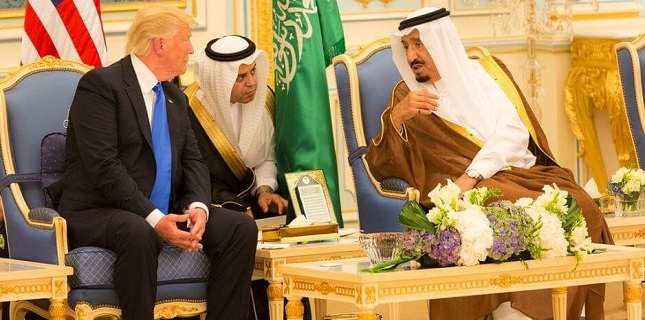 As the main sponsor of ISIL and Al-Qaeda terror groups, Saudi Arabia has rallied its Arab allies against a variety of regional "enemies". The autocratic regime has vilified Iranians. It stereotyped Shiites. And it went after the Iraqis, Syrians and Yemenis for refusing to obey the status quo.
After the failed regime-change wars on Iraq, Syria and Yemen, Riyadh still wants to tell the world who is the boss in the Middle East. The new blame game now is trying to vilify Hezbollah and Lebanon – desperately trying to keep out Iranians:
Saudi Arabia and its regional allies once again criticized Iran and its Lebanese ally Hezbollah at an emergency meeting in Cairo on Sunday, calling for a united front to counter Iranian interference. Regional tensions have risen in recent weeks between Saudi Arabia and Iran over Lebanese Prime Minister Saad al-Hariri's surprise resignation, and an escalation in Yemen's conflict.
Hariri resigned on Nov. 4 from Riyadh, accusing Iran and Hezbollah of spreading strife. But Lebanese President Michel Aoun and other politicians accused Saudi Arabia of holding Hariri hostage and said he had been coerced into resigning. Saudi Arabia also accuses Iran of a role in the launch of a missile towards Riyadh from Yemen this month. Iran denies accusations that it supplies Ansarollah forces in Yemen – a fact also reiterated by the United Nations.
Nevertheless, in a declaration after the meeting, the Arab League was way off the line to accuse Hezbollah of "supporting terrorism and extremist groups in Arab countries with advanced weapons and ballistic missiles." It was also wishful thinking to claim that the League would provide details to the UN Security Council of Tehran's violations for arming the resistance movement of Ansarullah in Yemen. There is no such evidence.
Hezbollah, on the other hand, is part of Lebanon's government, and along with Iran and Russia, the resistance has been at the forefront of the war on terror in Syria with major success. Thanks to the sacrifices made by the anti-partition alliance, ISIL and other terror groups are at their last gasp in Syria AND Iraq.
Quite the opposite, Saudi Arabia's threats have gone beyond all limits and pushed the region into a dangerous abyss. The regime and its allies – with green light from the United States and Israel – pursue divisions and create differences, and because of this they don't see any results other than regional tensions, divisions, chaos, terrorism and war.
As for Iran, all signs have pointed to more pragmatic moves and policies. Iran is not to blame for fighting terrorism to make Iran and the region safe again at Saudi Arabia's expense. The international civil society gives Iran great credit for this. The blame, instead, falls squarely on Saudi Arabia and its allies – in particular the US and Israel. The implication: Only Saudi Arabia works on behalf of terrorist and extremist groups' interests. All other Saudi allies are dupes – or, worse, complicit and a servant of Saudi power – making sure they will always be number two, a reality that Qatari leaders have always taken pains to obscure.
Moreover, on Riyadh's watch, regionalism has died. Pointedly, on the sidelines of the same Arab League meeting that Riyadh attended, Riyadh didn't play with others. It simply dictated an anti-Iran statement and asked others to read it. Guess what? Saudi allies just didn't have the bandwidth to handle more than that. They went with the Saudi-Israeli statement.
Taken together, Iran traditionally favors regional relations over divisions because it has no intention to use its size to advantage in negotiating better economic or diplomatic deals with smaller Persian Gulf countries. But now Saudi Arabia and Iran have traded places. Riyadh is suspicious of any grouping larger than the Arab League. And Iran has seized the opportunity to present itself as the country that cares about the whole region and its security and not just what it can gain in any set of alliances.
This doesn't mean that Iran has gone soft on its adversaries. The foreign ministry has singled out Saudi Arabia for censure. Saudi allies have also fallen into that category as well. Tehran recognizes that a bad country is simply acting in its own interests and extracting the best it could from the ongoing chaos in the region.