Saudi Arab
Britain Apologizes after Egg Thrown at Saudi General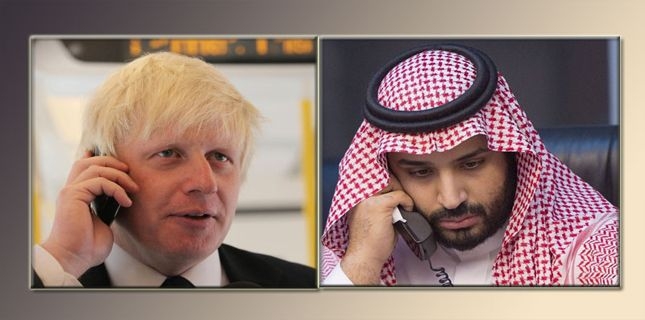 Britain has apologized after an egg was thrown at a Saudi military official during a visit to London, Saudi state media said Sunday.
An anti-war activist last week attempted a citizen's arrest of General Ahmed Assiri, spokesman for the Saudi-led (Persian) Gulf coalition fighting Houthi movement in Yemen, before another threw an egg that hit Assiri in the back.
British Foreign Secretary Boris Johnson called Deputy Crown Prince Mohammed bin Salman, son of the Saudi king and the country's defense minister, to apologize for "the attack on General Ahmed Assiri, counselor to the prince, by protesters," the state-run SPA news agency said.
Assiri told AFP he had been "subject to aggression" by protesters critical of Riyadh's operations in Yemen.
Video posted on Twitter showed anti-war activist Sam Walton approaching Assiri, putting his hand on the general's shoulder and announcing he was placing him under citizen's arrest before being pushed aside by security personnel.
Walton can be heard saying, "I'm placing you under citizen's arrest for war crimes in Yemen."
Civilians in Britain are permitted to arrest anyone suspected of committing an indictable offence.
Another protester followed Assiri's security detail to the entrance of a building, where he threw an egg that hit the general in the back. Video showed Assiri turning around and giving the protester the finger.
Rights groups have harshly criticized Saudi Arabia over its military action in Yemen