Saudi Arab
World
UK 'putting profit before Yemeni lives' with arms sales to Riyadh: Campaigners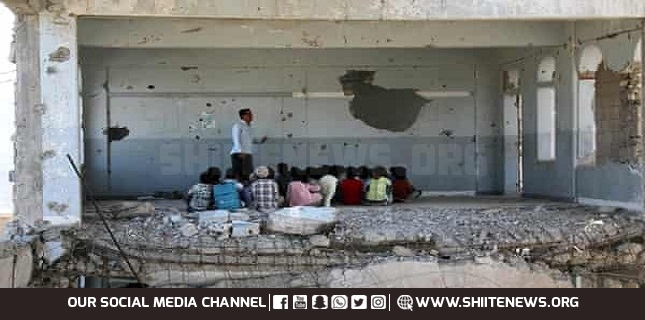 A UK-based campaigning organization has lambasted the British government for its huge arms sales to Saudi Arabia amid the kingdom's aggression against war-torn Yemen, saying London is "putting profit before Yemeni lives."
Campaign Against Arms Trade, an advocacy organization working towards the abolition of the international arms trade, made the assertion on Tuesday after reports revealed that British officials have authorized almost two billion dollars of arms sales to Saudi Arabia since the UK resumed its unrestricted weapon exports to the kingdom last July.
Reports said £1.36bn out of the total £1.39bn worth of arms exports authorized by the UK authorities were bombs and missiles.
The UK-based organization said the amount of exports shows how far the arms sales were dependent on the ongoing six-year war on Yemen, in which thousands of civilians, including women and children, have been killed.
The campaigners also said the figures highlighted the discrepancy between the UK and the US, which under newly-elected President Joe Biden halted similar arms sales to Riyadh last week.
Sarah Waldron, a spokesperson for the campaign group, said the data once again illustrated "the UK government's determination to keep supplying arms at any cost."
Waldron also underlined that the UK could be responsible for "continuing to fuel the war" while the Biden administration had agreed to curb arms sales.
The UK government insisted on Monday that it would not follow suit despite pressure from campaigning organizations, with Junior Foreign Office Minister James Cleverly saying Biden's decision was solely a matter for Washington.
"The UK takes its own arms export responsibilities very seriously, and we continue to assess all arms export licenses in accordance with strict licensing criteria," the minister told MPs in an emergency debate.
Backed by the US, the UK and other Western states, Saudi regime and a coalition of its allies have been engaged in a military against Yemen since early 2015 with the aim of reinstalling a Riyadh-friendly government there.
The campaign has failed to achieve its goals, thanks to the resistance put up by the Yemeni army and allied popular groups, but it has left the poorest Arabian Peninsula state mired in the "world's worst humanitarian crisis," as the United Nations put it.
According to the latest figure provided by the UN in December 2020, that war has claimed over 233,000 lives so far. The campaign of aggression has also left millions of Yemenis on the brink of famine and wreaked havoc on the country's civilian infrastructure, including hospitals and schools.