Saudi Arab
Saudi Arabia hires over dozen lobbying firms in US to launder its reputation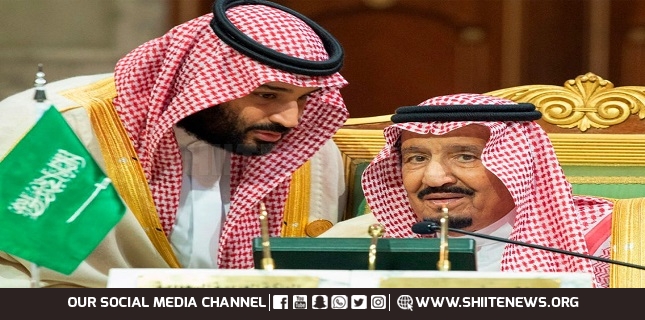 Saudi authorities have reportedly hired more than a dozen lobbying firms to help boost relations with the United States and improve the Riyadh regime's image as new US President Joe Biden assumes office.
According to foreign agent registration filings with the US Justice Department, Riyadh has used at least 16 firms "to largely restore its influence machine in the capital [Washington] and in other parts of the country, and help boost US-Saudi trade relations."
The lobbying effort will be even more crucial during the term of new US President Joe Biden, whose administration decided on Wednesday to freeze arms sales to Riyadh pending a review, said a Foreign Policy report.
Saudi authorities are already in hot water over issues including Riyadh's devastating war on Yemen, its treatment of women and the murder of exiled dissident journalist Jamal Khashoggi inside the Saudi consulate in Istanbul in 2018.
Foreign agents hired to lobby on behalf of Saudi interests have apparently contributed almost $2 million in political donations to federal candidates, including Trump and new Democratic President Joe Biden, said the report.
Among these firms is the powerhouse Edelman, which heavily favors Democratic candidates in its political donations and signed a $225,000 contract, after the November presidential election, to provide services to the controversial Neom megacity project that is planned to be constructed in Tabuk region of northwestern Saudi Arabia on the Red Sea in an area nearly the size of Belgium.
Israeli prime minister Benjamin Netanyahu and Saudi Crown Prince Mohammed bin Salman (MBS) reportedly held a secret meeting in Neom city in late November.
Edelman communications firm was also hired by state-owned Saudi Basic Industries in early 2020 to provide strategic communications in a $5.6 million contract.
Additionally, the Riyadh regime struck deals with companies seen as close to the Republican Party. Just before the presidential vote, the Saudi Embassy in Washington hired Off Hill Strategies, a firm run by a couple with a long history in conservative politics, for $75,000 to lobby for them through January 2021.
"The Saudis need to maintain their influence within the Republican Party post-Trump in hopes the Republican Senate can [help] block any bills that might hurt them, like prohibitions on arms sales or withdrawing troops from Yemen," Ben Freeman of the Center for International Policy's Foreign Influence Transparency Initiative, which seeks to promote transparency and accountability in global relations, said.
He added "there was this public perception that the Saudi lobby went into hiding" following Khashoggi's murder.
"But that's not true at all—what we saw is that actually they doubled down, giving money to think tanks and US universities to help launder their reputation," Freeman said.
He noted that the kingdom hired the multinational firm Qorvis to a $10 million contract just three months after Khashoggi's death in a bid to improve its image and reputation.
Andrea Prasow, the deputy Washington director at Human Rights Watch, said Riyadh used lobbyists to "whitewash" its image, citing the failure of the Saudi crown prince and de facto ruler who has presented himself as reformer to Western governments.
Biden has vowed to be tougher on Saudi Arabia than Trump, who bragged about protecting bin Salman in the aftermath of the Khashoggi murder.
Several intelligence agencies, including the CIA, have reportedly concluded that MBS ordered Khashoggi's killing. Riyadh has denied the accusations in return.
Saudi Arabia's human rights record has come under intense scrutiny following the murder of the Saudi journalist.
Rights group urges UN to secure release of top Saudi dissident cleric
Separately, amid a brutal crackdown led by the Saudi crown prince against pro-democracy activist, Muslim preachers and intellectuals in the kingdom, a Swiss-based human rights organization has called upon the United Nations (UN) to intervene and secure the release of distinguished dissident cleric Sheikh Salman al-Ouda.
Alkarama asked the Committee on the Rights of Persons with Disabilities (CRPD) to pursue the case, and urged independent experts to visit the imprisoned 64-year-old clergyman to examine him, and report on his condition and needs.
The human rights organization called on the UN body to "intervene and urge Saudi authorities to release the prominent scholar Dr. Salman al-Ouda, who was arbitrarily detained, and stop the reprisals against his family," the cleric's son, Abdullah, wrote in a post published on his official Twitter page on Thursday.
The Arabic-language Saudi newspaper Okaz reported on September 4, 2018 that Saudi public prosecutors had leveled 37 counts against Ouda, and even demanded his execution.
Saudi authorities detained the prominent Muslim scholar on September 7, 2018 and have been holding him in solitary confinement without charge or trial ever since. Officials have imposed travel bans on members of his family as well.
A family member told Human Rights Watch that the distinguished cleric was being held over his refusal to comply with an order by Saudi authorities to tweet a specific text to support the Saudi-led blockade of Qatar.
Ouda, instead, posted a tweet, saying, "May God harmonize between their hearts for the good of their people," – an apparent call for reconciliation between the Persian Gulf littoral states, the US-based rights group said in a statement.
Earlier this month, Saudi Arabia, the United Arab Emirates, Bahrain and Egypt signed a declaration on the eve of the Persian Gulf Cooperation Council (GCC) leaders' summit in the ancient desert city of al-Ula, to ease a rift with Qatar, signaling the end of a three and a half year embargo of the energy-rich Persian Gulf country.
In June 2017, the four countries accused Qatar, among other things, of supporting "terrorism" and having close ties to Iran, and severed economic and diplomatic ties. A blockade was also imposed by the four countries by land, sea and air.
Qatar repeatedly denied the claims and said there was no justification for severing relations.