Saudi Arab
Riyadh tries to demonize Iran as it restores diplomatic ties with Qatar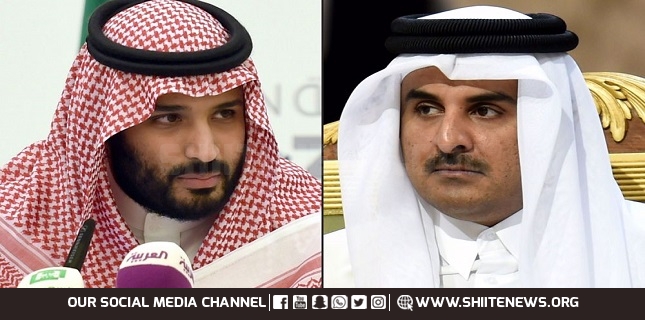 Saudi Arabia tries to demonize Iran again as it enters a détente with Qatar, more than three years after Riyadh and its allies broke off their ties with Doha, citing its close relations with Tehran, among other things.
On Tuesday, the northwestern Saudi city of al-Ula hosted a meeting of the Persian Gulf Cooperation Council (GCC), which was entitled to resumption of diplomatic relations between the kingdom, the United Arab Emirates, Bahrain, and Egypt on the one side, and Qatar on the other.
The quartet severed their ties with Qatar in 2017, faulting Doha's favorable stance towards Iran, accusing it of supporting "terrorism" due to its backing of Egypt's Muslim Brotherhood and the Palestinian resistance movement of Hamas, and claiming that Doha was sowing regional instability.
They called on Doha to downgrade its ties with Tehran and cease its support for the Islamic groups, among other excessive demands, which Qatar rejected as an attack on its sovereignty.
Chairing the meeting, Saudi Crown Prince Mohammed bin Salman said Persian Gulf states had reached a "solidarity and stability" agreement that had closed up the rifts.
He, meanwhile, went on a barrage of accusations, in which the Islamic Republic took center stage.
"We are in utmost need to unite our efforts to advance our region and confront the challenges that surround us, particularly the threats posed by the Iranian regime," the crown prince alleged.
He urged the regional council to stand against Iran's nuclear and ballistic missile programs as well as what he called "destructive sabotage projects."
Regional powerhouse Iran's steady growth and burgeoning influence has hardly sat well with the kingdom over the past years. Riyadh cut its diplomatic ties with Tehran in early 2016 after angry protests in front of its Iran-based diplomatic missions against its execution of senior Saudi Shia cleric Sheikh Nimr al-Nimr.
Bin Salman's designation in 2017 as the next in line to assume Saudi kingship was followed by an exponential increase in Riyadh's animosity towards Tehran.
Under bin Salman, the kingdom acted as one of the main forces which prompted the United States' 2018 withdrawal from a historic nuclear deal with Iran, after which Washington returned its draconian sanctions against Tehran.
Observers say the Saudi royal tries to regularly demonize Iran in order to deflect attention from his own grave human rights violations, including overseeing a hugely deadly war on Yemen since 2015, his widely-reported ordering of the 2018 assassination of dissident journalist Jamal Khashoggi, and an ongoing crackdown against the kingdom's Shia minority and oppositionists.
They also remind that bin Salman's oft-repeated accusations of destabilization against Iran that Tehran rejects as baseless flies in the face of Riyadh's widely-reported and drawn-out record of supporting regional Takfiri terrorist outfits.