Palestine
Israel plans to construct over 100 new settler units in southern West Bank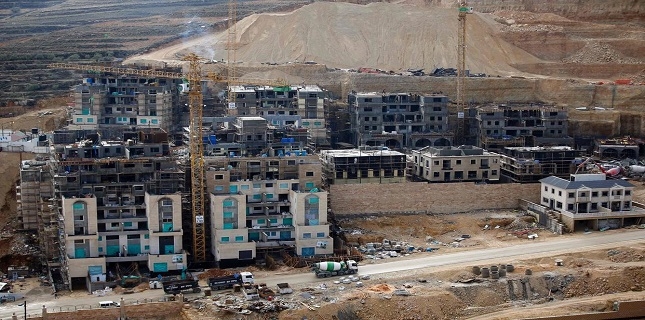 Israeli officials have announced a plan to build more than a hundred new settler units in the southern part of the occupied West Bank in grave contravention of international law and a United Nation Security Council resolution against the Tel Aviv regime's land expropriation and settlement expansion policies in occupied Palestinian lands.
According to a detailed plan published on the Israeli Interior Ministry's website, a total of 102 new housing units will be constructed at Nigot settlement west of Dura city, located eleven kilometers southwest of al-Khalil (Hebron), on an area of 291 dunums.
The project will be overseen by the so-called Settlement Division of the World Zionist Organization.
Israeli authorities have reportedly erected caravans and started the construction of a road to pave the way for the new project.
Less than a month before US President Donald Trump took office, the United Nations Security Council adopted Resolution 2334, calling on Israel to "immediately and completely cease all settlement activities in the occupied Palestinian territories, including East Jerusalem" al-Quds.
About 600,000 Israelis live in over 230 illegal settlements built since the 1967 Israeli occupation of the Palestinian territories of the West Bank and East Jerusalem al-Quds.
Palestinians want the West Bank as part of a future independent Palestinian state, with East Jerusalem al-Quds as its capital.
The last round of Israeli-Palestinian talks collapsed in 2014. Among the major sticking points in those negotiations was Israel's continued settlement expansion on Palestinian territories.
This as there have been regular anti-US protests by Palestinians in the West Bank and the Gaza Strip since December 6, when Trump declared that Washington recognized Jerusalem al-Quds as the "capital" of Israel and was moving the American embassy from Tel Aviv to the holy city. Many say Trump's move has effectively killed any chances of further negotiations.
The dramatic shift in Washington's Jerusalem al-Quds policy drew fierce criticism from the international community, including Washington's Western allies, and triggered protests against the US and Israel worldwide.
The United Nations General Assembly later voted by a resounding majority to reject Trump's Jerusalem al-Quds move.
Israel lays claim to the whole of Jerusalem al-Quds, but the international community views the ancient city's eastern sector as occupied land and the Palestinians consider it their future capital.