Palestine
US puts Hamas leader Ismail Haniyeh on terror blacklist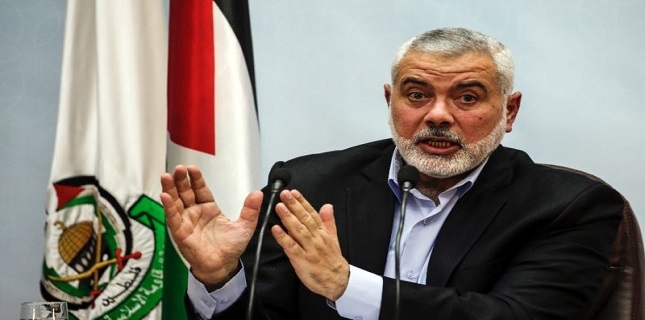 The United States has put the leader of the Palestinian Islamic resistance movement, Hamas, on its so-called terror blacklist and imposed sanctions on him, raising tensions in the region following Washington's recognition of Jerusalem al-Quds as Israel's capital.
The US State Department said in a statement on Wednesday that Ismail Haniyeh has close links with Hamas' military wing and has been a proponent of armed resistance against Israel.
"He has reportedly been involved in terrorist attacks against Israeli citizens. Hamas has been responsible for an estimated 17 American lives killed in terrorist attacks," the statement said, without providing any evidence to back the claims.
"These designations target key terrorist groups and leaders — including two sponsored and directed by Iran — who are threatening the stability of the Middle East, undermining the peace process, and attacking our allies Egypt and Israel," the State Department quoted Secretary of State Rex Tillerson as saying in a statement.
Haniyeh was also placed on the US Treasury Department's sanctions blacklist, which freezes US-based assets if he holds any and bans American firms and individuals from doing business with him.
Nothing deters Hamas resistance against Israel
The Palestinian movement Hamas said the US move to place Haniyeh on the terror list will not deter its resistance against Israel.
"This Zionist policy supported by the US cannot be confronted unless we ignite a new intifada (uprising)," a Hamas spokesman said.
"We reject and condemn the decision and we see it as a reflection of the domination by a gang of Zionists of the American decision," the spokesman added. "The decision is worthless."
The US move comes as tension is already high in the occupied Palestinian territories following US President Donald Trump's recognition of Jerusalem al-Quds as the capital of Israel and his plan to relocate the US embassy in Israel from Tel Aviv to the holy city.
Trump's al-Quds shift was a break from decades of US policy that left the occupied city's status to be decided in Israeli-Palestinian negotiations.
The dramatic shift in Washington's policy vis-à-vis the city infuriated Palestinians and triggered demonstrations in the occupied Palestinian territories, Iran, Turkey, Egypt, Jordan, Tunisia, Algeria, Iraq, Morocco, and other Muslim countries.