Palestine
Israeli soldiers shoot dead young Palestinian man in occupied West Bank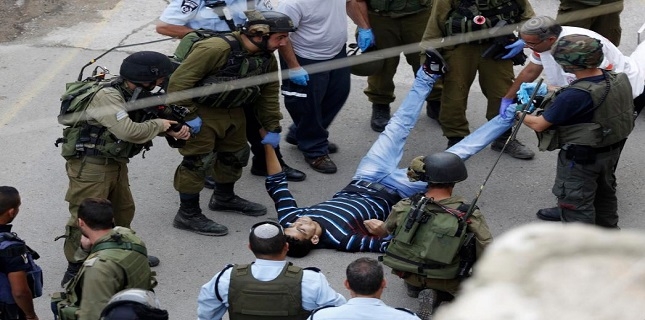 Israeli troops have mortally injured a young Palestinian man in the head in the occupied West Bank during clashes in protest at US President Donald Trump's controversial recognition of Jerusalem al-Quds as the "capital" of Israel.
Ahmed Saleem was shot in the head in Jayyus village near the city of Qalqilyah, close to the so-called separation line between Israeli-held territories and the occupied West Bank on Monday, said Palestine's health ministry in a statement, as a number of Palestinian outlets said the young man was in his mid-20s.
Saleem was the 17th Palestinian to be killed by Israeli troopers since Trump's highly provocative declaration of Jerusalem al-Quds as Israel's capital on December 6, deteriorating the already tense situation in occupied territories. Some 3,000 other Palestinians have also sustained injuries during protests that have ensued the announcement.
On Thursday, Israeli soldiers separately shot dead two Palestinian teenage boys in the central part of the besieged Gaza Strip and the West Bank during clashes in anti-Trump demonstrations.
The entire Jerusalem al-Quds is currently under Israel's control, while the regime also claims the city's eastern part, which hosts the third holiest Muslim site. The city has been designated as "occupied" under international law since the 1967 Arab War, which Palestinians want as the capital of their future state.
Palestinians condemned the decision, asserting that the US has no credibility as a Middle East peace broker. The dramatic shift in Washington's policy vis-à-vis the city triggered demonstrations in the occupied Palestinian territories, Iran, Turkey, Egypt, Jordan, Tunisia, Algeria, Iraq, Morocco and other Muslim countries.
On December 21, the United Nations General Assembly overwhelmingly voted in favor of a resolution that called on the US to withdraw its controversial recognition of Jerusalem al-Quds as the Israeli capital, while US Ambassador Nikki Haley wielded Washington's veto against the call, prompting the Palestinian government's strong condemnation.
Jerusalem al-Quds remains at the core of the Israeli-Palestinian conflict, with Palestinians hoping that the eastern part of the city would eventually serve as the capital of a future independent Palestinian state.