Palestine
Hamas denounces Mahmoud Abbas for security coordination with Israel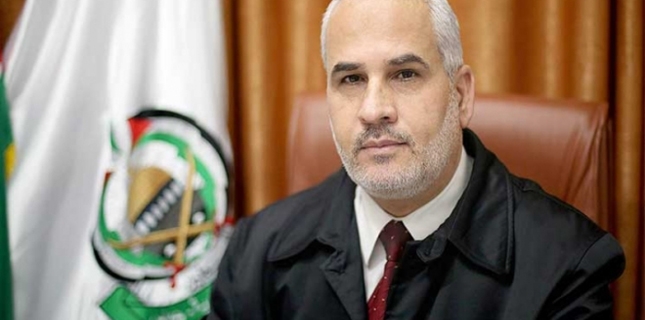 The Palestinian Islamic resistance movement, Hamas, has criticized the leader of Fatah movement and Palestinian Authority President Mahmoud Abbas, for his decision to resume security coordination with Israel, nearly a month after the two movements reached a landmark national reconciliation deal.
The move by the Palestinian Authority (PA) "distorts the reputation of the Palestinian people, its struggles and history," said Hamas spokesman Fawzi Barhoum in a statement on Thursday, expressing his disapproval of the PA's new security stance in the occupied territories.
"Hamas is surprised of the PA in the West Bank's resumption of security coordination and cooperation with the Zionist enemy, which is the equivalent of the greatest danger to the Palestinian people, its unity and its legitimate rights, including the right to resist the occupation," Barhoum further said.
Hamas's statement came a day after PA Police Chief Hazem Atallah said that all branches of the PA security forces had fully restored security cooperation with Tel Aviv two weeks ago. He fervently defended the resumption, saying "this is for our people, the safety of our people and for the rights of our people."
Back in July, Abbas announced that security coordination with Israel had been halted in protest against the regime's installation of metal detectors near the entrance to the al-Aqsa Mosque compound in East Jerusalem al-Quds.
According to a September poll conducted by the Palestinian Center for Policy and Survey Research, some 73 percent of Palestinians backed Abbas's decision on suspending security coordination with Tel Aviv.
The development came as Hamas and Fatah signed a provisional unity agreement in the Egyptian capital Cairo on October 12, in which the former agreed to hand over the full administrative control of the besieged Gaza Strip to the Palestinian Authority to end a decade-long standoff between the two sides.
Fatah and Hamas have been at odds ever since the latter scored a landslide victory in parliamentary elections in 2006. Since 2007, Hamas has been governing Gaza, with Fatah based in the autonomous parts of the Israeli-occupied West Bank. The two rival Palestinian factions finally agreed on a unity government in April 2014, but it fell apart months later.
After the national reconciliation deal was reached, Israeli Prime Minister Benjamin Netanyahu, enraged by the accord, demanded that the new government recognize Israel, dismantle the military wing of Hamas and cut ties with Iran.
The US has echoed the demand, saying any Palestinian government must "unambiguously and explicitly" adhere to certain "basic requirements," namely recognizing Israel.
In reaction to the demand, the head of Hamas, Yahya Sinwar, said that "no one" can force the movement to disarm or recognize Israel.
"No one in the universe can disarm us. On the contrary, we will continue to have the power to protect our citizens," Sinwar said on October 19. "No one has the ability to extract from us recognition of the occupation," he added.