Palestine
Israel suspends handover of Palestinian bodies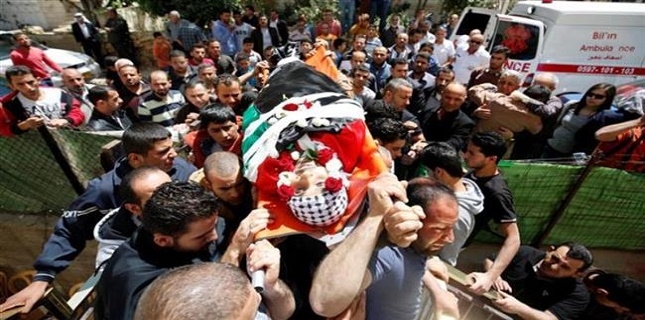 An Israeli minister has ordered his officials to suspend the handover of bodies of Palestinians killed by regime forces, saying Palestinians incite violence by holding mass funerals for their dead.
Israeli police said Gilad Erdan, the regime's minister for public security, issued the order on Tuesday after he reportedly saw a video of the funeral of a slain Palestinian youth in the occupied East Quds (Jerusalem).
A large number of Palestinians gathered at a police station in Quds earlier in the day to receive the body of Abu Jamal, a 22-year-old who was killed by Israeli forces on October 13, 2015 after he drove his car into a bus stop, killing one Israeli and injuring four others.
Israelis had set conditions for release of Abu Jamal's body, including a $10,000 payment by his family and a cap of 40 people attending the funeral.
Erdan was quoted as criticizing the presence of people in the funeral, calling it an "incitement" and contrary to accepted norms in the occupied Quds. Reports said the crowd gathering for the funeral did not chant slogans against Israel and only few Arabic poems and recites were read in commemoration of the victim. The family of Abu Jamal had also paid the demanded deposit to ensure they can receive the body.
Israel is becoming increasingly reluctant to release bodies of the Palestinians killed by regime forces as clashes continue between the Palestinians and Israeli settlers and troops both in the occupied West Bank and in the illegally annexed Quds.
The unrest began last October after Palestinians accused Israel of trying to gradually change the status quo of a highly-revered religious compound in the occupied Quds, which houses the al-Aqsa Mosque, the third holiest site in Islam.
The 10-month-long Israeli crackdown has claimed the lives of more than 200 Palestinians with regime in Tel Aviv claiming most of them were engaged in attacks on settlers and troops. More than two dozen Israeli settlers and soldiers and several people with foreign nationalities have also been killed in the violence.