Palestine
Israeli forces shoot dead 4th Palestinian youth in West Bank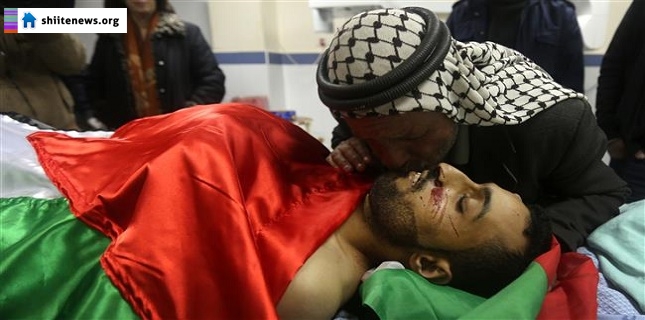 Israeli military forces have shot dead another Palestinian in the West Bank as tensions continue unabated between Israeli troops and Palestinian protesters in the occupied territories.
On Thursday night, Israeli troopers opened fired on a young Palestinian woman after she allegedly sought to stab soldiers at a checkpoint in the West Bank village of Beit Einun, located five kilometers (3.1 miles) northeast of al-Khalil (Hebron), Arabic-language Safa news agency reported.
The report came only hours after Israeli forces fatally shot three Palestinian youths over an "attempted stabbing attack" on a group of Israeli soldiers at the Gush Etzion Junction in southern West Bank.
The trio was later identified in the Palestinian media as 20-year-old Muhannad Ziyad Kawazbeh, Ahmad Salim Abd al-Majid Kawazbeh, 21, and 20-year-old Alaa Abed Muhammad Kawazbeh.
They were said to be the relatives of 18-year-old Ahmed Kawazbeh, who was shot dead after allegedly stabbing an Israeli soldier at the Gush Etzion Junction on January 5.
On Wednesday, senior Hamas leader Ismail Haniyeh stressed that the Palestinian nation will continue the ongoing Intifada (uprising) against the Tel Aviv regime until all of its objectives are achieved.
He said sacrifices being made by Palestinians and their heroic resistance in the face of Israel will eventually come to fruition.
Haniyeh further praised young Palestinian men killed at the hands of Israeli military forces, stating that they could thwart the schemes devised by the Tel Aviv regime, and disrupt all its calculations.
Tensions have been running high in the West Bank after Israel's imposition in August of restrictions on the entry of Palestinian worshipers into the al-Aqsa Mosque compound in East al-Quds (Jerusalem). Al-Aqsa Mosque is the third holiest site in Islam.
The restrictions have enraged Palestinians, who are also angry at increasing violence by Israeli settlers frequently storming the al-Aqsa Mosque. They say the Tel Aviv regime seeks to change the status quo of the compound.
Nearly 150 Palestinians, including children and women, have lost their lives at the hands of Israeli forces since the beginning of last October.