Palestine
Israeli bulldozers demolish Bedouin buildings in al-Quds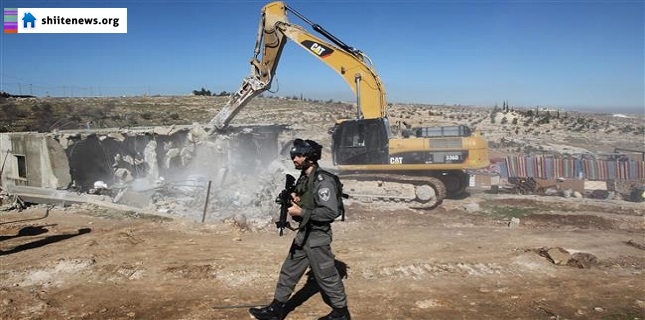 Israeli bulldozers have demolished a number of residential buildings in an area populated by Palestinian Bedouins in East al-Quds (Jerusalem), local residents say.
Witnesses and local Palestinian residents said the bulldozers escorted by Israeli forces demolished structures belonging to more than 20 families of the Jahalin Bedouin community in Khan al-Ahmar area of eastern Jerusalem in the early hours of Monday, Palestinian Ma'an news agency reported.
This came after the Israeli regime issued demolition orders to hundreds of Palestinian Bedouins living in the region.
Palestinian Bedouins have refused to leave their land despite Israeli regime's determination to press ahead with the forceful eviction of the ethnic group.
The Arab ethnic community has lived in Khan al-Ahmar encampments, which lie between al-Quds (Jerusalem) and Jericho, since being forced out of their ancestral homes in Negev desert.
The Israeli authorities have been going on with the plan of forced evacuation against Bedouins since 1949.
The demolition of Bedouin homes is part of Israel's massive land grab plan, which will forcefully displace thousands of people.
International organizations and human rights groups suspect a link between the latest plan to displace the Bedouin community in Khan al-Ahmar and the expansion of the nearby settlement of Maale Adumim.
In September last year, the UN urged the international community to block Israeli plans to relocate Bedouins from the West Bank.
The United Nations Relief and Works Agency for Palestine Refugees' (UNRWA) Commissioner General Pierre Krahenbuhl said the implementation of the plan would stoke concerns "that it amounts to a 'forcible transfer' in contravention of the Fourth Geneva Convention."
He added that the plan might also make way for further illegal Israeli settlement expansion.
The international community regards all Israeli settlements built on the occupied Palestinian lands as illegal.
More than half a million Israelis live in over 120 illegal settlements built since Israel's occupation of the Palestinian territories in 1967.
Palestinians are seeking to create an independent state on the territories of the West Bank, East al-Quds, and the besieged Gaza Strip and are demanding that Israel withdraw from the occupied Palestinian territories.