Palestine
Israeli troops clash with Palestinians on Prisoners Day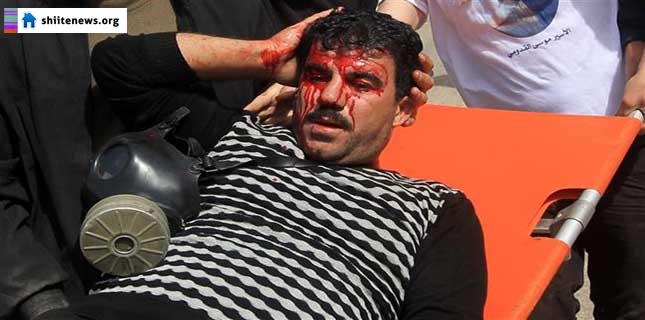 A series of violent clashes have broken out when Israeli forces attacked separate groups of Palestinians protesting across the occupied territories and opened fire to disperse the crowds.
On Friday, the fierce clashes erupted between Israeli forces and Palestinian protesters as people in the occupied territories and the besieged Gaza Strip poured onto streets to mark the Palestinian Prisoners Day.
At least 60 people were injured in the village of Bil'in, in Ramallah and al-Bireh Governorate in central West bank, after inhaling teargas fired by Israeli troops.
"We will not leave our prisoners in jail alone," rally organizer Abdullah Abu Rahma said in Bil'in, adding, "We will defend their right to be released, because the majority of them have been arrested illegally by Israeli forces."
Witnesses and local residents say at least one protester was shot in the head in Kafr Qaddum village, near the northern West Bank city of Qalqilya. Israeli troops also used rubber-coated bullets and water canon to disperse Palestinian crowds there.
A series of scuffles and clashes were also reported in Bethlehem.
In al-Quds (Jerusalem), Palestinians marched on the al-Aqsa Mosque compound, shouting slogans against Israel's detention policy.
Prisoners Day is marked every year in solidarity with thousands of Palestinians in Israeli jails.
Israeli forces have arrested nearly 800,000 Palestinian since 1967. There are currently over 6,500 Palestinians in Israeli jails, many of them women, minors, and chronically ill prisoners.
Palestinian rights group Defense for Children International says at least 182 of the prisoners are children.
Israeli forces routinely abduct Palestinians in the occupied West Bank and put them behind bars based on the administrative detention policy.
Administrative detention is a sort of imprisonment without trial or charge that allows Israel to incarcerate Palestinians for up to six months. The detention order can be renewed for indefinite periods of time.
Human rights groups have repeatedly denounced imprisonment without charge or trial.
On March 22, the Hossam Association of Palestinian Prisoners and Ex-Prisoners warned that Palestinians in Israeli jails were prone to a growing risk of cancer due to high levels of radiation inside prisons.
A number of Palestinians are also being held in prisons near the Dimona nuclear reactor as well as toxic waste dumps in Negev Desert, the rights body added.
The advocacy group says Palestinian prisoners continue to face a wide range of human rights violations in Israeli jails and detention centers.