Palestine
Two buses torched at parking lot in Israeli-occupied territories south of Tel Aviv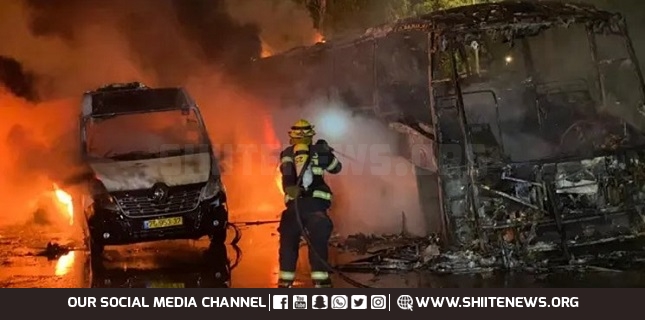 Two buses have been burned down in an open parking lot in the Israeli-occupied territories, more than a week after over a dozen buses were torched and destroyed in a similar incident that police suspect was part of a protection racket.
According to a report published by the English-language Jerusalem Post daily newspaper, the attack took place on Golda Meir Street in Rishon Lezion city, located eight kilometers (5 miles) south of Tel Aviv, in the early hours of Sunday. No casualties were reported.
Firefighters were reportedly working to extinguish the fire. There were no immediate reports of casualties.
Back on June 11, eighteen buses were destroyed when they were torched in the early hours of the day in the northern Israeli city of Safed.
A number of other vehicles were damaged in the attack at the central bus station. There were no reports of injuries at the time.
Sixteen of the buses reportedly belonged to the Afifi transportation company based in Nazareth. The other two destroyed vehicles belonged to Netiv Express, which is part of the same group.
Residents told the Hebrew-language Walla news site they were woken by the sound of explosions and immediately panicked that it was a rocket attack.
"We thought it was Katyushas," a person told the site.
A similar incident happened in the northern Israeli town of Kiryat Shmona last month.
There has been a surge in activity linked to organized crime across the Israeli-occupied territories in recent years.
Spiraling levels of crime and violence against the Palestinian communities as well as the Israeli police's inaction in the face of the violence have outraged Arab citizens of Israel, prompting tens of thousands of them to stage mass demonstrations.
Last October, hundreds of Palestinians held a mass demonstration in the Israeli-occupied territories to express their deep resentment over rising levels of misdeed and violence in their communities and the Israeli police's collaboration with criminal gangs.
The protesters converged on Land Day Square in Deir Hanna, located 23 kilometers southeast of Acre, on October 16, 2021, and marched towards a funeral house in the town in support of young Palestinian man Jihad Hammoud, who was killed in a shooting attack by a group of unknown gunmen a week earlier.
Two other Palestinians had also been injured in the same incident.
The demonstrators carried Palestinian flags and placards condemning the Israeli police's complicity with criminal gangs and outlaws.
Among the protesters were mayors of Arab communities, members of Arab political factions in the Israeli Knesset (parliament), and representatives of civil society.