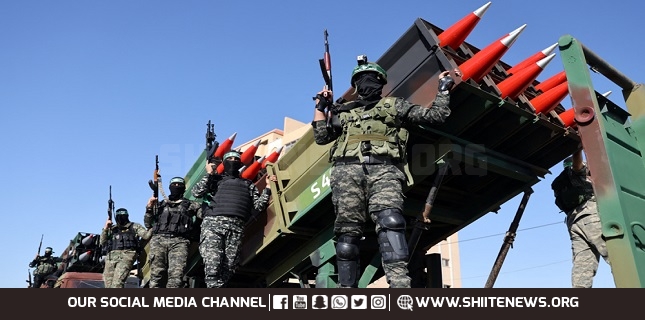 Marking the anniversary of their victory against the Israeli regime's last war on the Gaza Strip, the enclave's resistance movements strongly warn Tel Aviv against seeking to afflict any harm on the groups' leaders.
"Assassination of the resistance's leaders will open the gates of hell to Zionists," the groups said in a statement on Tuesday, the Palestine Today news agency reported.
The Times had published a report earlier, alleging that Israeli authorities had informed Western allies that the occupying regime was preparing hit squads to carry out targeted killing operations against the leaders of the Gaza-based Palestinian resistance movement of Hamas, who lived abroad.
The statement celebrated the first anniversary of the groups' triumphant "Sword of al-Quds Operation." The operation saw the groups firing around 4,000 rockets towards the occupied territories during the 11-day war, forcing the Israeli military into beating a humiliating retreat.
'Together until Israel's destruction'
"That sword is still unsheathed and will remain so until Israel's destruction," the statement added.
The statement said the operation served as a "turning point" in the resistance movements' confrontation against the Israeli regime. The operation, they said, changed the "rules of engagement" in such a way that now any aggression by the regime would be returned in kind.
"The enemy's threats do not scare us," the statement added, noting that the occupying regime's threat of assassinating Hamas' leaders "bespeaks its frustration, bewilderment, and security defeat."
"[Our] potential response to any foolish act by the regime would be strong and destructive," the groups said.
Zaher Jabarin, a member of the Hamas' Political Bureau, meanwhile, cautioned the Israeli regime that any harmful activity targeting Hamas' leaders would be tantamount to "declaration of war" against the movement.
"The Zionist enemy thinks it can end the resistance by leading a policy of targeted killings," he said, the Palestinian Information Center news website reported.
The official said, however, that the resistance had not backed down since 1948, when the occupying regime claimed existence after launching a hugely-Western-backed war against the regional territories.