Palestine
Israeli forces kill Palestinian teen in occupied West Bank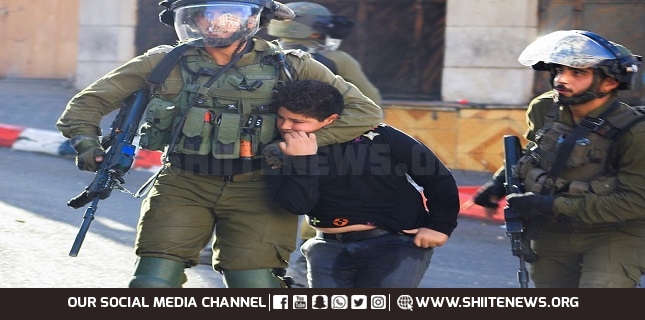 Israeli forces have gunned down a 14-year-old Palestinian in the south-central part of the Tel Aviv-occupied West Bank for, what the regime has called, throwing stones at them.
Muhammed Shahadah was targeted with the forces' live fire in the town of al-Khader in the south of Bethlehem in late Tuesday, the Palestinian Ma'an news agency reported, citing the West Bank-headquartered Palestinian Authority's health ministry.
The regime's 0404 News, an online daily, alleged that the youngster was killed while pelting the forces with stones.
Local witnesses said Shahadah was transferred to the hospital around 30 minutes after receiving the injury that led to his death.
The al-Quds Radio said the atrocity was followed by a rally in al-Khader, which led to confrontations between the participants and the Israeli forces, large numbers of whom have been deployed around the town.
Another protest rally was also reported to have taken place in the Dheisheh refugee camp, which is located just south of Bethlehem, with demonstrators gathering around the victim's home.
The killing came hours after a video went viral of Israeli forces attacking an intellectually disabled young Palestinian man in Sheikh Jarrah neighborhood of the occupied East al-Quds.
The Israeli troops violently attacked the residents of Sheikh Jarrah flashpoint neighborhood and other Palestinians who gathered in the area to voice their solidarity with families threatened with expulsion from their homes.
Among those attacked was Mohammed al-Ajlouni, who suffered from Down syndrome. The Palestinian Information Center cited a Palestine Red Crescent Society paramedic as saying that Israeli forces physically assaulted him.
The atrocity came amid heightened tensions in an around the Sheikh Jarrah neighborhood in the holy occupied city of al-Quds. On February 13, Israeli forces and illegal settlers renewed their attacks against the neighborhood, where more than a dozen Palestinian families face expulsion by the Israeli regime.
Mass exodus hits Israeli forces
On Tuesday, Mynet, an Israeli news service, reported that the repercussions from the flare-up in Sheikh Jarrah and elsewhere across the occupied Palestinian territories had come at a cost for the Israeli regime's Special Police Unit.
According to the report, the unit has been hit by an overwhelming number of requests by the forces, who seek to leave the unit, citing incapability to face the heightened protests in al-Quds, including at the al-Aqsa Mosque's compound, a focal point for the demonstrations.
The news service said out of every five Israeli members of the unit, at least one is trying to be discharged through either transfer or resignation. This puts the number of the requests at around 50 out of 250, which is the total number of the unit's police forces.