Palestine
Four Palestinian prisoners remain on hunger strike in Israeli jails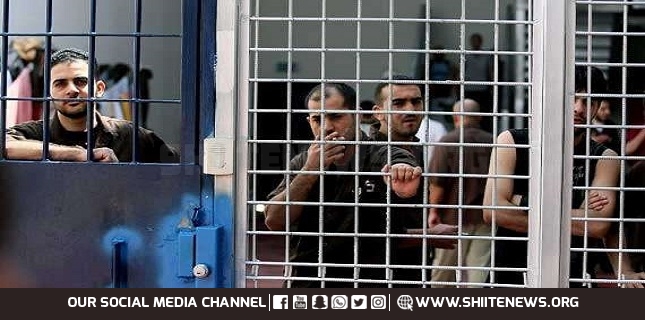 A Palestinian commission for prisoners says four Palestinian inmates are still on an open-ended hunger strike in Israeli prisons in protest at their indefinite, unfair and unexplained imprisonment without any charge or trial by the Tel Aviv regime.
The Palestinian Commission of Detainees' and Ex-Detainees' Affairs said in a statement on Sunday that 34-year old prisoner Kayed Fasfous, who has been on the longest hunger strike among the four Palestinian inmates, started his hunger strike 130 days ago in protest against Israel's so-called policy of administrative detention – a sort of imprisonment without trial or charge, Palestine's official Wafa news agency reported.
The other prisoners are Hesham Abu Hawwash, who has been on strike for 97 days, Ayyad Hureimi with 60 days and Lo'ai al-Ashqar, whose hunger strike has lasted 42 days now.
The commission further warned of worsening health conditions of the hunger strikers, particularly Fasfous, adding that they are facing an imminent threat to their lives.
Fasfous has been in hospital for nearly two months following serious deterioration in his health conditions.
The four Palestinian hunger strikers have been demanding an end to their administrative detention based on a "secret file" even their lawyers are not allowed to view. The so-called files are provided by the Israeli intelligence service.
The number of Palestinian inmates who remained on hunger strike was five on Thursday, until Alaa al-Aaraj, who had refused to take his meals for 103 days, reached an agreement with Israeli prison authorities to end his detention without charge.
More than 7,000 Palestinians are reportedly held in Israeli jails. Hundreds of them have apparently been incarcerated under the administrative detention. Some prisoners have been held in administrative detention for up to 11 years.
Palestinian detainees have continuously resorted to open-ended hunger strikes in an attempt to express their outrage at the detention.
Over a dozen Palestinian lawmakers and nearly 20 journalists are also held in Israeli detention centers, several of them under the same detention policy.
In 2015, Israel approved a law that authorizes force-feeding the Palestinian prisoners on hunger strike, a practice rejected by the UN as a violation of human rights.
The United Nations (UN) and the International Committee of the Red Cross (ICRC), as well as many human rights group have frequently expressed serious concern about hunger strikes' health condition and call for their immediate release.