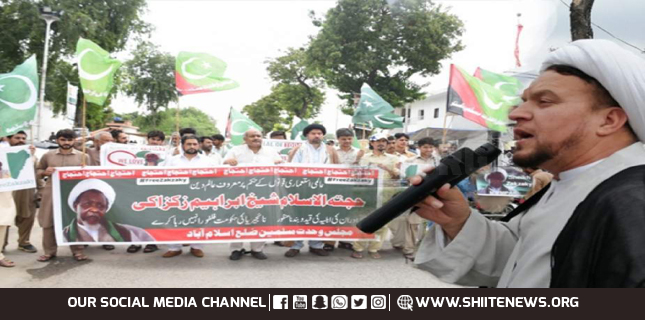 Rallies and demonstrations were held across Pakistan to demand Nigerian government to release Islamic Movement leader Ayatollah Sheikh Ibrahim Zakzaky forthwith.
The supporters protested on Friday on a call from MWM leader for a day of protest against detention of critically injured Sheikh Ibrahim Zakzaky in Nigeria.
Most importantly, central leaders of MWM participated in rally in Islamabad. There, Allama Ejaz Behishti and Nisar Faizi addressed the protesters.
Furthermore, they condemned inhuman detention of the renowned political leader.
Most importantly, they also condemned Nigerian regime for denying due medical treatment to the critically injured Zakzaky.
Moreover, protesters unanimously demanded the Nigerian regime to release Ayatollah Ibrahim Zakzaky forthwith.
Sheikh Ibrahim Zakzaky heads Islamic Movement of Nigeria where army brutally suppressed his supporters killing his sons and injuring him.
Meanwhile, reports had it supporters staged rallies and demo in almost all districts/cities across Pakistan.
Zakzaky Nigeria Pakistan supporters