Pakistan
Sit in against Shia enforced disappearance in Karachi enters 12th day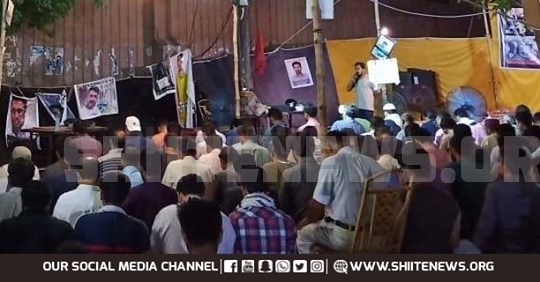 Sit in against Shia enforced disappearance in Karachi enters 12th day today in spite of unjustifiable false charges in FIR, media trial and crackdown.
Most importantly
The families and the committee along with their supporters successfully continue peaceful sit-in protest.
They continue to stage sit in outside Karachi residence of President of Pakistan.
Government should not test  patience of patriot and law-abiding peaceful Shia community
They demand that the President Dr Arif Alvi must order for immediate release of innocent Shia youths subjected to enforced disappearance.
Furthermore, renowned scholar Allama Syed Shahenshah Naqvi spoke to the protesters last night.
He warned the government not to test the patience of patriot and law-abiding peaceful Shia community.
Noteworty
Majlis-e-Wahdat-e-Muslimeen leaders Allama Syed Hassan Zafar Naqvi and Allama Syed Ahmed Iqbal Rizvi have turned down the false charges.
They said the entire community stands by the peaceful sit-in protesters because of their legitimate demands.
Reports had it senior Shia leadership has held meeting yesterday to review the malicious campaign against the community.
There, they have agreed to make united strategy to counter the nefarious plots against the community.
Certainly, Shia Missing Persons Release Committee leaders run a peaceful campaign within legal ambit as per Constitutional rights.
Importantly, the families of those subjected to enforced disappearance hace expresed dismay over false allegations against them.
Pakistanis accuse Saudi monarchy of playing a bhind the scene role to divide Pakistan on sectarian lines. They say that Saudi regime hosts and honours Ludhianvi of banned terror outfit Sipah-e-Sahaba, the mother wing of Lashkar-e-Jhangvi.
Therefore, due to this reson, Pakistanis detest dirty role of the Wahhabi monarhcy in Pakistan's internal affairs.
Moreover, elements within Pakistan trying to mainstream notorious banned terror outfits and punishng innocent also indicate Saudi role.
More from Shiite News
Sit in enforced disappearance shia
Shia community a victim of systematic marginalisation in Pakistan
FIR registered against families of Shia missing persons for sit in protest