Pakistan
Pakistan Minister call to Kashmiri leader Mirwaiz Umar Farooq angers India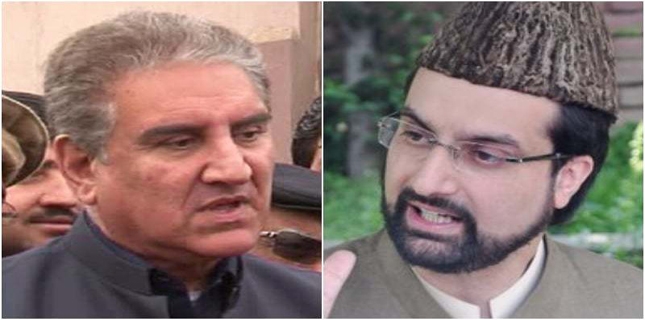 Pakistan summoned India's high commissioner on Thursday, in reaction to the Indian government summoning of Pakistan's representative in New Delhi yesterday. Pakistan Foreign Minister Shah Mahmood Qureshi's telephone call to Kashmiri leader Mirwaiz Umar Farooq has angered India.
FM Shah Mehmood Qureshi on Tuesday had apprised the All Parties Hurriyet Conference (APHC) leader Mirwaiz Umar Farooq of Pakistan's efforts to highlight the Kashmir issue at all international forums and to expose brutalities committed by Indian security forces in the occupied territory. He was of the view that India should permit a Commission of Inquiry to visit Indian Occupied Kashmir.
Farooq had appreciated the Pakistani government's efforts and asserted that Indian atrocities would never be able to suppress the will of the people of Indian Occupied Kashmir. He had added that Kashmiris would continue to raise their voices against Indian repression and black laws.
The foreign minister had informed the APHC chairman of upcoming events being organised in London at the House of Commons and an exhibition being held in the British capital on Feb 4 and 5. Farooq had said that although he wished to attend, his and his contemporaries' passports had been confiscated by the Indian government to prevent them from travelling abroad.
Foreign Office Spokesperson Dr Muhammad Faisal during a weekly briefing on Thursday said that India had summoned Pakistan's high commissioner to New Delhi on Wednesday night to lodge a protest over Qureshi's telephone call to Farooq. Pakistan rejected India's objections to the telephone call and reaffirmed its support for the Kashmiri struggle for self determination.
In response, Foreign Secretary Tehmina Janjua summoned India's high commissioner to the Foreign Office this morning to lodge a protest over the summoning of Pakistan's high commissioner to Delhi yesterday.