Pakistan
Forgotten Shaheed: 25th November Martyrdom anniversary of Shaheed Ali Nasir safvi / Video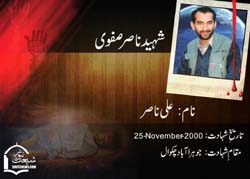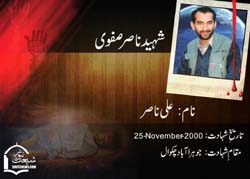 Shaheed Ali Nasir Safvi, was the leading martyred of the Shiite Community of Pakistan. He was martyred along with his respectable wife by the Pakistan armed forces in a joint operation with American CIA.
According to his relatives and companions, He was brutally killed in the joint operation of Pakistani Armed
forces in American CIA in the midnight of 25th of November 2000 at Joharabad area of district Chakwal in the era of American agent Pervez Muharraf in Pakistan.
He was martyred along with his wife in front of his old mother and two little daughter at his rental house of Joharabad at district chakwal. Shaheed Nasir safvi was the first martyred of the Shiite Muslim Community of Pakistan, who was gunned down in the Joint operation of CIA and Pakistan Armed forces. The credible sources informed the Shiite News that the CIA officials directly monitored the entire operation of the forces against Shaheed Nasir Safvi.
They informed that the American's were interested to arrest the Shaheed Ali Nasir Safvi alive but he had not allowed Americans to succeed in their plot to arrest him alive.
The Police of District Chakwal Joharabad police did not register the FIR, nor did the Sessions Judge who was petitioned for it. Lahore High Court order FIR registration, which has been challenged in the Supreme Court by the government.
But with the great legal struggle of the leading Ulema's and his companions, The Supreme of Pakistan has ordered to register the FIR of the extra-Judicial killing of Shaheed Ali Nasir Safvi.
He was the close aide of Shaheed Dr Mohammad Ali Naqvi and spent his entire life for the supremacy of Islam and against the aggression of American regime.
Shaheed Nasir safvi was the real solider of Imam-e-Zamana (ajtf) as his martyrdom give us to continue the struggle for the Islam and Ahlul-Bait (as)….
He belongs from the District Jhang of Punjab and serving his potential with the Shaheed Quaid Allama Arif Hussaini Al-Hussaini.
Note: Shiite News are requested to all the followers of Imam-e-Zamana (ajtf) to offer fateha for the rest of the soul of our beloved Shaheed and also organized the Majalis and Quran Khani programs for him and his respectable Shaheed wife.

{youtube}3pJNS5O-z1Y{/youtube}Â