Pakistan
Pakistani's condemns the genocide of Bahraini people, condemns release of Davis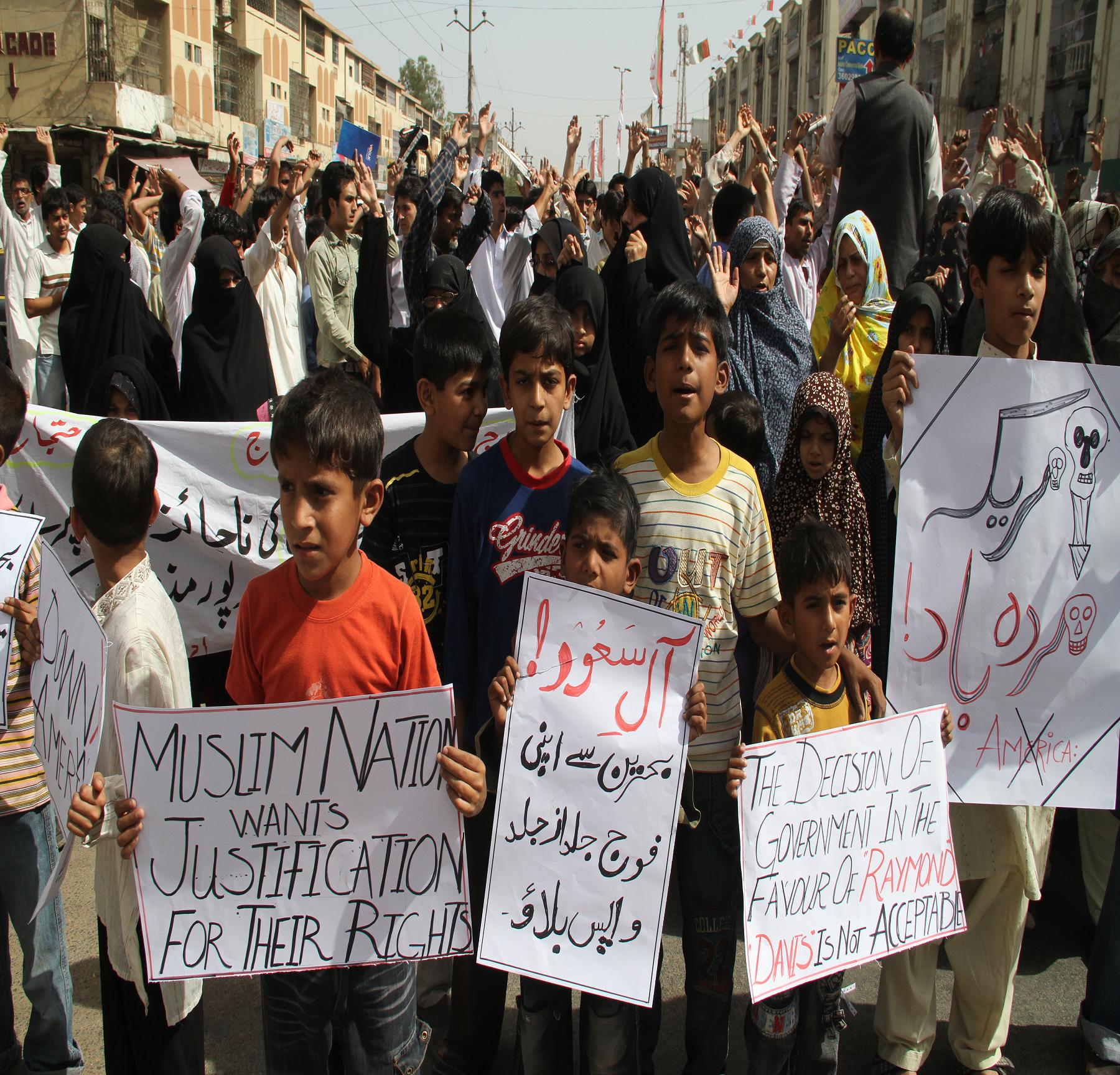 Hundreds of protest demonstration and rallies were taken out by the Shiite Muslims of Pakistan in support of oppressed people of Bahrain following the Friday prayers held across the country and also condemned the release of US CIA agent Raymond Davis from Pakistan.According to the Shiite News Correspondent, The demonstration and protest rallies were organized by the various Shiite organizations  including Majlis Wehdat Muslimeen (MWM), Jaffaria Alliance Pakistan (JAP), Imamia Students Organization (ISO) and other local organizations to express the solidarity with the movement of pro-democracy people of Bahrain.
The enraged protesters carried placards with slogans against the military intervention and condemned the violent crackdown on anti-government protesters that seek a constitutional monarchy as well as political reforms in Bahrain.
The demonstrations and protest rallies were held at all the major cities of Pakistan including Islamabad, Lahore, Karachi, Hyderabad, Sukkur, Peshawar, Multan, Quetta, Faisalabad, Gilgit City, Baltistan and other cities of the country.
The noted clerics, religious scholars and leaders of the religious organizations strongly condemned the genocide of Shia and Sunni pro-democracy protestors in Bahrain and demanded of the Wahabi-Nasabi regime of Saudia Arabia and Gulf Countries to immediate exit their forces from the Bahrain.
They pointed out that according to the United Nation charter this is the fundamental right of the people of Bahrain to stage peaceful protest movement in their countries saying that the invasion of Saudi and Gulf countries forces were the attack on Bahrain to protect the illegitimate monarchy of Bahrain and US Navy fifth fleet in Bahrain.
They warned the Saudi-Wahabi regime and Gulf countries, which were sent their forces in Bahrain to crush the pro-democracy movement, to besiege their diplomatic missions in Pakistan, if they would not exit its forces from the Bahrain forthwith.
They questioned that why the Saudi-regime and Gulf Countries did not send their troops in support of oppressed people of Palestine, who are being faced the Israeli brutality from the last six decades.
They urged the United Nation, Human Rights Organizations, and Islamic Countries to immediately stop the genocide of Shia and Sunni pro-democracy protestors in Bahrain by the Saudi forces.
Condemning the release of CIA agent Raymond Davis, Shia leaders criticized the role of Saudia Arabia and Punjab Government over the involvement in the release of CIA terrorist Raymond Davis and termed that the Saudia-Wahabi regime of AleSaud was playing the role as American broker in the Muslim countries.
They demanded of the government of Pakistan to immediately shut down the United States Embassy and consulates in the country, which are the center of CIA anti-Pakistan activities in Pakistan.
It may be noted here that Since mid-February, thousands of anti-government protesters in Bahrain have poured into streets, calling for an end to the despotic regime.
Over 12 people have been martyred and 1,000 injured so far during the government clampdown on the peaceful demonstrations.
On March 13, Bahrain's fellow members of the [Persian] Gulf Cooperation Council dispatched contingents of armed forces to the Persian Gulf island at Manama's request to help quell
Back to top button