Pakistan
Ashura & Arbaeen Incidents perpetrator apprehended from Karachi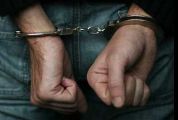 Muhammad Alam Khan, a terrorist of Sipah-e-Sahaba's Lashkar-e-Mavia accepts responsibility to mass massacre during the month of Muharram including bomb blasts on 8th, 10thMuharram and Arba'een processions of Imam Hussain A.s in Karachi year 2010.Muhammad Alam Khan Chitrali S/o. Khush Zauq, born in Chitral's district Mastoonch in 1980 has been captured by  Prime Agency of the country during a successful raid at Scout Colony, Gulshan, Karachi.
The miscreant gave an elaborate account and claimed activities relating to bomb blasts on 8th Muharram at Paposh, 10th Muharram at Imam Hussain's Markazi Juloos of Ashura and the bomb blasts of Chehlum at Nursery and Jinnah Hospital on mourners.
He mentioned his allies and brought forth the name of the notorious "Lashkar-e-Muawiya" being the malefactor behind these criminal upshots.
According to the details got by Shiite News from Daily Ummat News Papers, Alam Khan bearing CNIC # 15202-6500497-9, was brought to Karachi by his friend Abdul Ghafoor in 1996 to meet his uncle (canteen incharge) at Masjid-o-Madressa  Umer, Sohrab Gothe. With the help of Abdul Ghafoor's uncle he got himself admitted in Madressa Darul-Rehmania, situated at Kashmir Road since 1999 and here he completed his courses. He joined Jamia-Arabia-Islamia, adjacent Mubeena Police Station – Scout Colony to elaborate his study while working as "khudaam" in Masjid-e-Rabia at Rabia Petal, Scout Colony till he became a "Mohtamim" there in 2003. In 2001, he went to marry his cousin in Chitral to come back in 2007 to join a local newspaper situated in Nazimabad, with the help of Mr. Abrar which he left only after six months to be a "Qaari" at Masjid-e-Tooba, Al-Asif Nagar. He, later, settled his family at Masjid-e-Ali after becoming a "Qaari" there.
JUI-F & Sipaha-e-Sahaba nursery of Terrorists
Alam Khan became an activist of "JUI" in the initial stages which he left to be a member of the outlaw "Sipah-e-Sahaba". In 2009, some members of SSP erected a separate wing namely, "Lashkar-e- Muawiya" which he became party to. During this period they, under the command of Abdul Rehman, were in constant touch with "Lashkar-e-Jhangvi".
Masjid-e-Zarar
On 24th Dec, 2009, in a secret meeting held at Masjid-e-Muawiya, Scout Colony, the individual was given a task of placing a remote controlled bomb during a religious procession; with details of the bomb to be obtained from Saleh Muhammad.
25th Dec, 2009: 15.30, he met Saleh Muhammad, waiting in a Yellow Cab at Sohrab Gothe, to go to Khilafat Chowk, Paposh Nagar where after placing the Bomb in a Sewerage Hole he returned to Scout Colony, Gulshan-e-Iqbal.
26th Dec, 2009: 16.00, he went to Khilafat Chowk, Paposh Nagar in the same Yellow Cab accompanied by Saleh Muhammad and an unknown Taxi Driver. They waited till Maghrib Prayers before infusing the bomb targeting a Shiite procession (Juloos) and returned to Masjid-e-Muawiya, Scout colony, where his allies were waiting to congratulate them. Â In this very meeting Abdul Rehman, Muhammad Saleh, Irfanullah Balocha and Asif disclosed another bomb (sim) of high intensity which was placed at light house, M.A. Jinnah Road during Ashura Juloos of 10th Moharram.
Accomplice Saleh Muhammad of Hazara, joined 10th Muharram Juloos dressed in black through another Juloos ex-Pehalwan Gothe and detonated the bomb upon it reaching its target by calling the sim number.
Right after the incident 15 to 20 members of our group gathered at Masjid-e-Muawiya, Scout Colony where our commander Abdul Rehman threatened to kill our families if the said news was disclosed and ordered to go underground, to which we obeyed.
Only 2 days later Abdul Rehman gathered the members at Masjid-e-Muawiya, Scout Colony and ordered Saleh Muhammad and Irfan Khan Baloch to prepare another bomb to be placed in a motorcycle targeting Zairin's bus at Shahra-e-Faisal and one at Jinnah Hospital under Asif's supervision. The same were executed per plan.
Killed their Own leaders
The same militants murdered Izhar ul Haq S/o. Haq Nawaz Jhangvi since he de-railed from Haq Nawaz's mission. Lest after that they killed Maulana Ahsanullah Farooqi in a dispute over Masjid-e-Muawiya. Later, they attempted to murder Moosa Abidi (resident of Abbas Town) which went in vain.
Training
While in Lashkar-e-Muawiya he realized that Asif was trained in Waana with special skills in bomb making by Harkat ul Jihaad's 313 brigade headed by Qari Usman in 2009.
Contacts with Others
FIA's report instigates the assailant to have special connections with outlaw organization Sipah-e-Sahaba's 13 members, namely; Amanullah FArooqi, Abdul Ghafoor, Nadeem, Naimatullah Baloch, Ghulam Murtuza Baloch, Shoaib Khan of ANP, Ahsanullah, Ali Shah, Shahbaz, Shoaib, Bhai SArwar, Abdul Rehman Bhai, Asif and Saleh Muhammad.
Whereas from the details obtained off Alam Khan, Lashkar-e-Muawiya's leader Abdul Rehman is Urdu speaking resident of Patel Para, Karachi with 38 -40 years of age. Asif, second in command, resides near Bilal Mosque, Scout Colony, of age 30-32. Saleh Muhammad of Hazara Gothe, speaks Persian is 30-32. Irfan Baloch, a makrani baloch resident of Block 7 Gulistan-e-Johar is 27-28. Rasheed Bhai, Gilgiti 25-26, Waseem of Sohrab Gothe is 30 years of age.
Upon assailant's identification another member of Lashkar-e-Muawiya has been apprehended, but FIA has yet to reveal his name.
Contradiction
Astonishing and to our dismay a special investigation unit for these incidence of mass massacres during Muharram processions closed these cases a while back by filing a report blaming Jundullah as the malefactor behind all this. An Elite Official Mr. Umer Khattab refuted any other idea but Jundullah to be involved, yet this advent contradicts everything. This new development has not only brought forth security agencies incompetence but as well given the masses an air of mistrust upon its security agencies. Are we to trust their reports/verdicts?
Back to top button