Pakistan
KARACHI: "Bedaria Ummat-e-Muslimah Rally" to support the uprising in Egypt, Tunisia, Kashmir, and North African Countries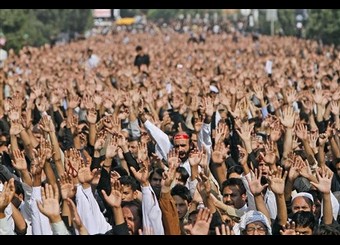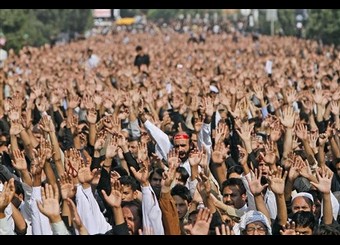 Thousands of Karachiites on Sunday took out a "Bedaria Ummat-e-Muslimah Rally" to support the uprising in Egypt, Tunisia, Kashmir, and North African Countries against the American puppet rulers of these countries.Thousands of people from all walks of lives carrying the Palestinian, Egypt, Hezbullah and Pakistani flags demanding over the immediate quit of Hosni Mubarrak. They  were chanting slogans "Mubarrak must go" and "Free Egypt and Jail Mubarrak".
The  "Bedaria Ummat-e-Muslimah Rally" was organized by Majlis Wehdat-e-Muslimeen (MWM) and Imamia Students Organization to support the uprising in the Muslims World, was taken out from Numaish Chowrangi to Sea Breeze Plaza M.A.Jinnah Road.
Where, MWM Central Leader Maulana Maqsood Ali Doomki, Ali Ausat, JUP Central Leader Qazi Ahmed Noorani Siddiqui and ISO Central General Secretary Tahseer Kazmi were addressed the participants of the rally.
The speakers said that Egyptian and Tunisian uprising are Islamic awakening saying that these movements against the dictatorial regime of these countries were the step towards the new Muslim Middle East.
The leader termed an "Islamic liberation movement" in the Arab world, and expressed their support to the uprising in Egypt, Tunisia, and North African countries.
They urged the people of these countries to be united and beware from the conspiracies of America, Israel and agents of West.
"The awakening of the Islamic Egyptian people is an Islamic liberation movement and we the people of Pakistan, salute the Egyptian people and the Tunisian people," they added
The leaders called on the Egyptian army to back the protesters and focus its eyes on the Zionist enemy saying that the awakening movement in Egypt will be a grave threat for Israel.
The speakers accused the United States of propping up corrupt leaders in the region in order to protect its own interests and those of its ally Israel saying that the time is coming for the end of US puppets rules from the Muslim countries.
Commenting over the uprising of Egypt and Tunisia, They said that this is a war between two willpowers: the willpower of the people and the willpower of their enemies American, Israel and their agents," they said.
They claimed that the Israelis and the Americans are more concerned about what would happen to their interests in post-Mubarak regime.
They warned the Pakistani rulers to learn the lesson from the Tunisia and Egypt and immediately leave the US appeasing policies saying that the nation would not tolerate the policies against the national sovereignty.
The leaders demanded of the execution of American black water agent Raymond Davis saying that US agents were involved in the killing of Pakistani citizens and they should be punished.
The participants of the rally torched the flags of United States and Israel and chanting the slogans "Down with USA, Down with Israel, and Down Mubarrak.
Back to top button