Pakistan
Holy prophet and Imam Hassan martyrdom observe in Parachinar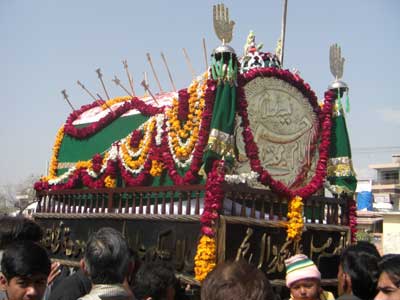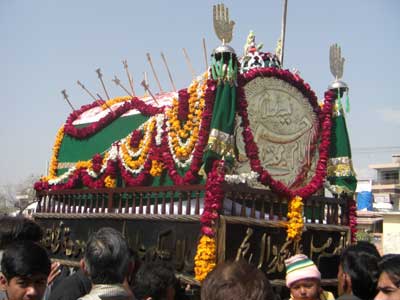 Tens of thousands mourners participated on 28safar Azadari in connection with Holy Prophet Hazrat Muhammad(pbuh) & his grandson Hazrat Imam Hassan martyrdom day across the Kurram Agency FATA 382imambarghas.According to Shiite News Correspondent, Some villages besides sever cold and minus degree Celsius with addition  to snowfall but yet tens of thousands tribal mourners including children and women participated in Azadari of Holy Prophet Muhammad (pbuh) and his progeny (as),which shows their love with the Family of Prophet (Ahlul-Bait).
The biggest Azadari event was held after Zoherain prayers in Central Imambargah of Parachinar the headquarter of Kurram Agency where according to estimates more than fifty thousands mourners participated in the congregation.
Speaking on the occasion the Ulema and Scholars highlited  the teachings of prpohet Muhammad (pbuh) and his progeny (as), and the oppressions committed against Ahlul-bait(a.s)by that time dictators and Yazedi forces of Ummayd's and Abbasyd's, also mentioned that in today's time the followers of yazeed in the form of Sipahe Yazeed and Khawareej taliban are committing aggression against the followers of Ahlul-bait(a.s).
Ulema and Scholars condemned the four years continuous siege of Parachinar jointly imposed by military and Taliban millitants and they called as Khawareej taliban similar to siege imposed on Ahlul-bait(a.s) in Shabi Abi Talib by Abu Sufyan and his cruel party.
Ulema and Scholars clearly mentioned in thier Speeches that half million population of Parachinar and surrondings Upper Kurram FATA can even eat grass due to imposed Siege and will not accept yazedi and Khawareej brand of Islam and talibinization in thier paradise like Kurram valley which the military establishment wanted to impose by force & siege,they blamed.Religious scholars further told that since April2007 more than 1400 Turi Bangash tribes sacrificed thier Lives by going on the path of Ahlul-bait and 14masomeen(a.s) in resistance and depence against armed Taliban Lashkar and did not accept humiliation.
Back to top button