Pakistan
Maulana Hassan Zafar Naqvi warns countrywide protest against abduction of Shia youths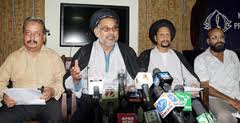 Majlis-e-Wahdat-e-Muslimeen Pakistan warned countrywide protest against the abduction of Shia men by security agencies.The families staged protest against the10 Shia missing persons abducted from different areas of the city within 10 days by the law enforcement agencies.
Families appealed Chief Justice Pakistan to take action against illegal detention of the 10 young men and probe the whereabouts of the missing persons.
As per detail, Mulana Hasan Zafar Naqvi leader of the Majlis-e-Wahdat-Muslimeen Pakistan along the families of 10 Shia men, allegedly in the custody of Law enforcement agencies held a press Conference at Karachi press Club on Monday.
Mulana Naqvi said that since the day of Ashura Muhram-ul Harram, law enforcement agencies conducted the raids at different localities including Jafar Tyaar, North Karachi, Federal B Area, Orangi Town, New Karachi and Cant Station and picked up several people without any charge.
Law enforcement agencies unable to stop the sectarian killing claimed the lives of various people including doctors, engineers and other intellectuals but started the operation against Shia community picked up various people without any reason, he said.
It seems that the agencies hatching the conspiracy against the Shias as they did after Nishter Park blast and detained several people for a long time period without any charge.
Security agencies should follow the rule of law and present suspects before the court.
He added that the agencies shown Masum and Komail but not presented before the court and their whereabouts yet to be disclosed.
He further said that the authorities were hesitant to take action against the culprits of Ashura and chelum blast and those who behind the killing of Shia people while abducting people without any reason from their home and search warrant.
He also claimed that law enforcement agencies also threatened to kill the arrested men in vivid encounter if they raise their voices.
He said our 10 people were arrested in different raids including Husnain Abbas, resident of Orangi town, Pervez Zaidi, resident of Orangi town no10, Two brothers Tanveer Abbas and Mazher Abbas, resident of Sector 10 North Karachi, Sikander and Jhangir, resident of New Karachi 11-D they were arrested from Cant station, Abrar and Ali Mehdi, resident of Jaffer Tayyer, they were arrested when they returning from imam Bargah, Rafat Abbas alias Mesum and Komail, both were the resident of F. B area.
Later the family members also appealed to Chief Justice of Pakistan, President Asif Ali Zardari, Prime Minister of Pakistan Yousf Raza Gilani and Interior minister of Sindh to recover the men allegedly detained by the law enforcement agencies and take stern action against the law enforcement agencies, conducted raids and misbehaving with the women of the families.
During the press conference, the victim families carried placards and alleged that the law enforcement even beaten the females members of the families when women were resisting and threaten for killing abducted persons.
Back to top button