Pakistan
Suicide bomber kills 15 Shia's in Kohat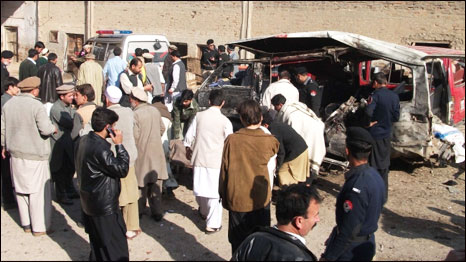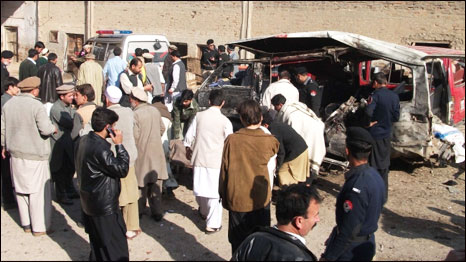 A suicide bomber blew himself up beside a crowded bus in northwest Pakistan on Wednesday, martyred at least 15 Shia Muslims, Shiite News
Correspondent said."A boy between the
ages of 18 and 20, who was carrying about 6 kg (13 lbs) of explosives, carried out the attack," said Dilawar Bangash,
 
police chief in the town of Kohat, where Wednesday's bombing took place. Twenty Shia's Muslims were wounded, hospital officials said.
Many shops were destroyed in the crowded Tirah bazaar.Witness Inayat Orakzai said: "The bus, which was filled with
passengers, was about to take off when a teenage boy came near the door of the bus and blew himself up."
The Pakistani Nasabi-Wahabi Taliban terrorist movement, which is
linked to al Qaeda terrorists, claimed responsibility for a suicide
bombing incident, which claims lifes of 15 innocent people.
Security forces and Kohat police cordoned off Tirah Bazaar after the attack.
Leaders of Majlis-e-Wahdat Muslimeen and Jaffaria Alliance Pakistan
strongly condemns the killing of innocent Shia Muslims in the bloody
suicide blast and demanded of the stern Military operation against the
Wahabi terrorists backed by the Saudia regime and America.
Back to top button