Pakistan
CID 'identifies' Ghazi shrine bomber thru fake CNIC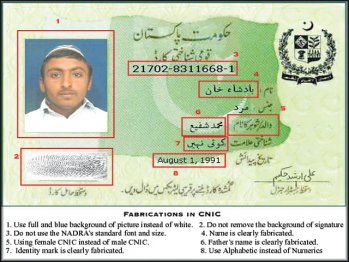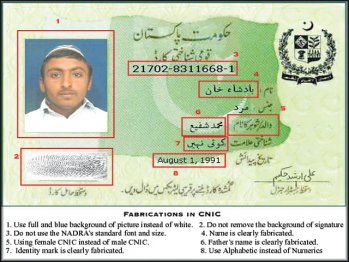 KARACHI – Crime Investigation Department (CID) has identified a suicide bomber, who had blown himself up at Abdullah Shah Ghazi Shrine last week, through a fabricated CNIC for a female.
The CID disclosed the identification of the suicide bomber who had exploded himself at the shrine and issued a fabricated national identity card for the bomber's identification.
The said card issued by the NADRA remains mysterious because NADRA does not mention portion of father's name and husband's name  for the CNIC of male, this thing suggesting fabrication has been made though computer software 'Photoshop' but on female NIC.
Another mistake pinpointed by TheNation is the blue background of the picture of Badshah Khan although the background of the pictures remains unchanged and each NIC card has a picture with white background.
Third point revealed about the date of birth of the alleged bomber written alphabetically in the card although usual cards have used numerical fonts of date of birth. The size of font and style also unmatched.
Interestingly, the bomber carried out the mission as after the completion of his 18-year life and got the card before explosion.
According to CID officials, the suicide attacker, Badshah Khan, son of Mohammad Shafi, hailed from Ladha, South Waziristan. Badshah's CNIC shows his date of birth as August 1, 1991 with no identity mark. There is no signature, but a thumb impression pasted in the card taken on a paper although NADRA has equipments of taking thumb impression.
Officials concerned did not attend the phone call made by this scribe when contacted.
Source: The Nation