Pakistan
Ignorant Wahhabis Martyr Two Shias in Quetta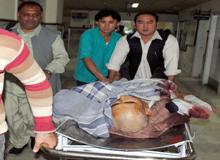 Three people are killed and three injured in Quetta at Sabzi Market in Hazar Ganji on Yesterday morning.
Ignorant Wahhabi Terrorists opened fire on a vehicle carrying four innocent Shia grocers in Hazar Ganji, Quetta at 11:00 AM local time, killing two of them on the spot and injuring two others.
The grocers were returning home from Hazara Ganji when armed men targeted them with automatic assault gun.
The slain Shias have been identified as Murad Ali (Zahir) S/O Qadam Ali and Qari Mohammad Ali S/O Qurban Ali, in their early 50s, while the identity of the injured ones is being confirmed.
Later, the dead bodies were shifted to Nichari Imam Bargah, Alamdar Road, Quetta to be laid to rest in Hazara Graveyard yesterday while the injured have been admitted to Sandeman Provincial Hospital for emergency treatment.
It is worth mentioning that over 53 Shia youths were martyred on 3rd September, 2010 in Mizan Chowk, Quetta when a suicide bomber blew him up among peaceful protesters, participating in a rally taken against the unlawful occupation of Baith-ul-Muqadas by Israeli forces and to express solidarity with Palestinian people.
Later, Takfiri Terrorists of Tehrik-e-Taliban Pakistan (TTP) and Lashker-e-Jhangvi claimed responsibility of the suicide bombing in separate telephone calls made to the local news agencies.
The law enforcement agencies, as usual, have expressed sheer apathy to the entire matter, terming it as target killing in a bid to close the files without any further investigation.
The peaceful Shias have been living in Quetta city for centuries but the decade long target killings and terrorist attacks against them have relatively confined them to their areas. The whole city is gripped with anxiety, uncertainty and frustration due to deteriorating law and order situation.
End item/ 129