Pakistan
Country-wide Chehlum of martyrs of Lahore, Quetta and Karachi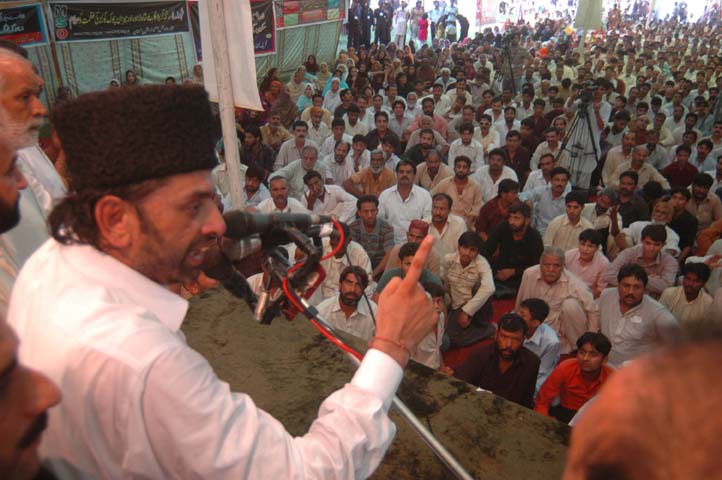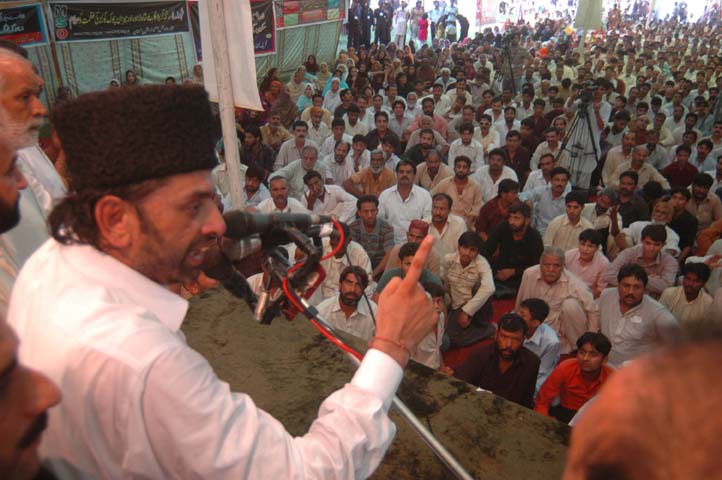 On September 26Â Country-wide Chehlum of martyrs of incidents of Karbala Gamay Shah, Meezan Chowk Quetta and target killings Karachi was observed with due respect and devotion on the call of Allamaa Agha Syed Hamid Ali Shah Moosavi throughout the country.
On this occasion, majalis-i-tarahim and Quran-khwani gatherings for height of ranks of the martyrs in mosques, imambargahs and aza- khanas in all the big and small cities, towns and villages were held. Protest rallies were also organized to condemn terrorism.
Main gathering of the event was held in Karbala Gamay Shah Lahore organized by Tehreek Tahaffuz-e-Wila and Aza and Azmat-e-Sadaat attended by tens of thousands of people.
A Declaration issued after this historic gathering Sunday stated that the patronage of banned terrorist groups by government and opposition is enmity with the country and the people while setting free the terrorists by lower courts and not giving any punishment to any terrorist provides food for thought. Chief Justice should take notice of the menace of terrorism confronted by the motherland.
The Declaration was unanimously approved by the participants by raising vociferous slogans and announced their complete faith in the dynamic leadership of Allama Agha Syed Hamid Ali Shah Moosavi and announced to present any sacrifice on his call for protection of country's integrity, solidarity, rooting out terrorism, promotion of Sunni-Shia brotherhood, and achievement of national rights.
Presenting the Declaration for approval on behalf of hundreds of renowned Shia Khutaba and Zakireen, Khateeb-e-Asr Allama Nasir Abbas expressed his concern that dozens of new organisations are cropped up from these banned organisations while office-bearers of these groups have set up new parties which operating openly and are blue-eyed of the Federal as well as the Provincial governments. He said banning the names of these organisations is useless but the terrorists working for these organisations should be taken to the task while new organisations introduced by them should also be banned which are becoming the cause of incidents of terrorism, and play basic role in jala-gherao under the cover of these incidents.
The Declaration considered the "Moosavi Peace Formula" presented in the Supreme Court as the only solution to promote Sunni-Shia coherence, Azadari problems, and protection of integrity and dignity of the motherland. It says that it is not possible to stop terrorism without cooperation of the people because protection of Pakistan is not the job of Pakistan's armed forces but that of every patriotic person. It said setting up of Mukhtar Force at every level is the need of the hour to provide protection to Eid-e-Milad and Azadari processions, Majalis-e-Aza, mosques, Imambargahs, and Dargahs.
It demanded strict implementation of the Anti-Terrorism Ordinance and strong operation against the banned groups and demanded from the government and the opposition to express practical hatred against terrorists and they should give up making them along their side for political purposes while they should also give up supporting the supporters of terrorism from their ranks.
It also demanded to sever diplomatic ties with the States patronizing terrorist organisations and put down their hands on the lobbies that support terrorists who kill humanity, they should be given exemplary punishment for supporting terrorism. It said the government should fulfil her responsibilities of supporting the bereaved families of Shuhada and terrorists should be taken to task, Drone attacks should be stopped while illegal foreigners living in Pakistan should be sent back. It fully supported the announcement of Allama Agha Syed Hamid Ali Shah Moosavi rejecting any restriction on Milad-un-Nabi, Azadari and religious processions. All incidents of terrorism including that of Karbala Gamey Shah, Data Darbar, Meezan Chowk Quetta, target killing in Karachi were strongly condemned in the Declaration.
Allama Syed Qamar Haider Zaidi, Spokesman of Tehreek Nafaz-e-Fiqh-e-Jafariya read out the message of Allama Agha Syed Hamid Ali Shah Moosavi in which he said that it is a matter of concern for every patriotic Pakistani that the terrorists coming down from mountains and caves, after targeting mosques, Imambargahs and Madaris, have now started targeting markets, security institutions and thoroughfares and no person or place is save from them. He said had the Moosavi Peace Formula was implemented in letter and spirit then the present situation would have come to fore. We strongly condemn terrorism and terrorist wherever these are.
Agha Moosavi in his message said that blasts in 21st Ramazan main procession at Karbala Gamey Shah and Bhati Gate in Lahore, suicide attacks in Youm Al-Quds rally at Mizan Chowk Quetta, continued incidents of target killings in Karachi, interference in frontier regions of Kurram Agency and Parachinar and continued attacks on the populations of Shalwazan in Parachinar are part of the same conspiracy.
He said the rulers are giving coward statements of limiting the religious processions and gatherings that would strengthen the terrorists. He made it clear that neither our forefathers accepted any restriction on Eid-e-Milad and Azadari processions nor we or our next generations would do so. Now, Azadari and Milad-un-Nabi processions will be taken out with more fanfare and courage while all Sunni-Shia will thwart every conspiracy of the enemy through their exemplary unity and brotherhood. He resolved to continue his struggle for rooting out oppression and restoration of justice and fair-play following the saying of Maula-e-Kainaat Hazrat Ali Ibne Abi Talib (A.S.).